Video: Greek coast guard sinks Syrian refugee boat
2015-09-05 09:14:58 | Al Muslim News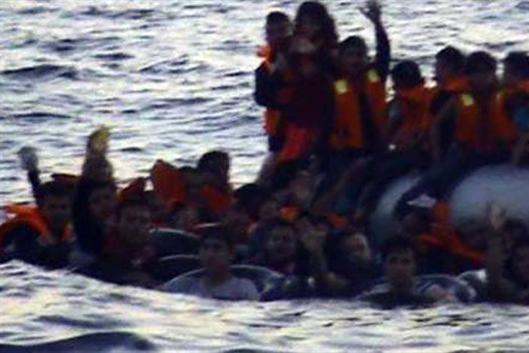 A Greek coast guard boat has been filmed opening fire causing the boat to explode, leaving Syrian refugees in the sea.
Greek coastguard boat was filmed mid-August sinking a refugee boat with refugees on board, causing the inflatable boat to explode and leave countless Syrian refugees in sea.
A Greek coast guard vessel sank a rubber dinghy full of Syrian refugees, including women and children, according to film footage shot by Turkish fishermen few days ago in Turkey's sea territory.
The video footage shot by one of the Turkish fishermen showed that the Greeks sank the migrant boat carrying Syrian migrants, including women and children with some sort of "lance", who was trying to reach Greek islands in the Aegean Sea.
The rubber boat had just left the Turkish coast, just a few miles from the Greek islands of Kos and Lesbos, where thousands of Syrians and other refugees have landed in recent weeks.
As the Greek patrol boat moved away from incident location, one of fisherman can be heard on the video saying, "The boat is deflating, the boat's taking on water and there are people on board."
The footage then showed the boat began to slowly sink, with dozens of the migrants forced to take to the sea.
The fishermen went to the rescue of the 50 Syrians and then called the Turkish coast guard, who eventually took the survivor back to the Turkish coast.
However, but this incident has been denied by Greek authorities. A spokesperson for the Greek Coast Guard's admiral said that no such incident took place, according to the Greek Reporter.
The world is facing the worst refugee crisis since the Second World War, with more than 50 million people driven from their homes by wars in Syria, Iraq, Afghanistan and civil conflict and political persecution in Africa, the European Union said in statement.
. Tags: #