US prosecutors seek death in murders of three Muslim students
2015-04-07 08:17:27 | Al Muslim News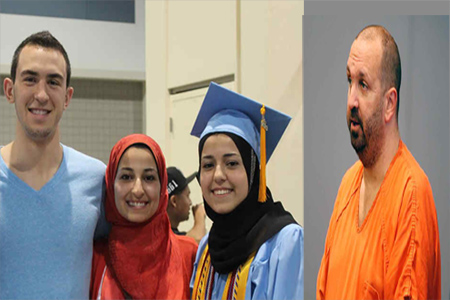 A judge in the state of North Carolina ruled Monday that prosecutors could pursue the death penalty for a man accused of fatally shooting his three Muslim neighbors in Chapel Hill. , US media reported.
Judge approved a motion by government attorneys allowing them to pursue a capital murder case against Craig Hicks.
Craig Stephen Hicks, 46, is accused of killing Deah Shaddy Barakat, 23, his wife Yusor Mohammad Abu-Salha, 21, and her 19-year-old sister Razan Mohammad Abu-Salha.
The three college students lived in the same apartment complex the city of in Chapel Hill where Hicks resided.
Durham County Assistant District Attorney Jim Dornfried said Craig Stephen Hicks took a gun from inside his home Feb. 10 and went to his neighbors' door and had an exchange with Barakat.
Dornfried said Hick pulled out his concealed gun and first shot Barakat, then shot Yusor Mohammad Abu-Salha, Barakat's wife, and her sister, Razan Mohammad Abu-Salha.
The two girls were still alive when Hicks shot them again in the head and fired again at Barakat as well,on the way out of the apartment, he said.
Hicks is charged with three counts of first-degree murder and with discharging a firearm into an occupied dwelling.
Investigators found an arsenal of weapons in his apartment, including 14 rifles and handguns, including a Bushmaster AR-15 semiautomatic rifle.
Authorities have said the murders may have been triggered by a long-running parking dispute, or possibly a hate crime.
The murders sparked outrage in the state of North Carolina where friends and relatives of the victims said they were targeted because of they were Muslims and have pushed for hate-crime charges.
US President Obama also decried the killings as "brutal and outrageous."
The FBI is still conducting an investigation to determine if a hate crime was committed..
Tags: #