US President's 'chadar' presented in Muslim Shrine Ajmer, India.
2015-04-20 09:31:11 | Al Muslim News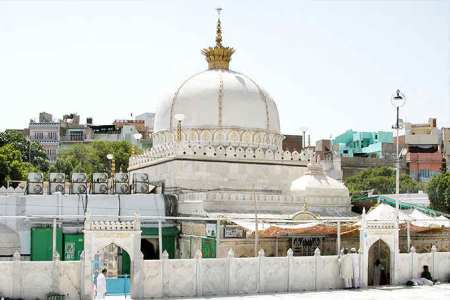 A 'chadar' (sacred cloth) sent on behalf of the people of United State of America and President Barack Obama, was ceremonially presented at the Dargah (Shrine) Ajmer Sharif, India.
The 'chadar' was presented by Haji Syed Salman Chishty, to mark the 803rd annual Urs (annual feast) celebrations of Hazrat Khawaja Moinudeen Hasan Chishty, a revered Sufi saint.
US Ambassador to India, Richard Verma, had handed over the 'chadar' on behalf of President Obama to Haji Chishty in New Delhi last week. Chishty is the 27th descendant of the saint, director of Ajmer's Chishty Foundation.
"On behalf of the United States government, I convey greetings of deepest friendship and respect to the community of Dargah Ajmer Sharif and the people of Ajmer," said a message from Verma which was read out on the occasion.
"On this day, the 803rd Annual Urs day of Hazrat Khawaja Moinudeen Hasan Chishty, our thoughts are with the community in Ajmer and we give thanks for the work of the Dargah Ajmer Sharif and its legacy of striving for understanding, peace, and respect between all faiths and peoples of the world," the message said.
Quoting President Obama, it added: "Whatever our beliefs, whatever our traditions, we must seek to be instruments of peace, and bringing light where there is darkness, and sowing love where there is hatred.
Hazrat Khawaja Moinudeen Hasan Chishty (1141-1236), who hailed from Sistan region of eastern Iran, migrated to India, a Sufi preacher who spread Islam in Hindustan (India) and introduced and established the 'Chishti' Order of Sufism at Ajmer.
It was mainly after emperor Akbar, who undertook a journey on foot from Agra to Ajmer during his reign that the Dargah emerged as one of the most important Muslim Shrine in India, which is revered by people of all religions.
Over the past eight centuries, it has been a favorite of several rulers, kings, emperors and in recent years, several leaders from Pakistan and other countries have visited the Ajmer Dargah Sharif to pay their respects.
Every year, hundreds of thousands of Zaireens or devotees from all over the world, who have converge for the Annual Urs, at Ajmer Sharif..
Tags: #