US President Obama hosts Iftar dinner to mark Ramadan
2015-06-24 04:32:51 | Al Muslim News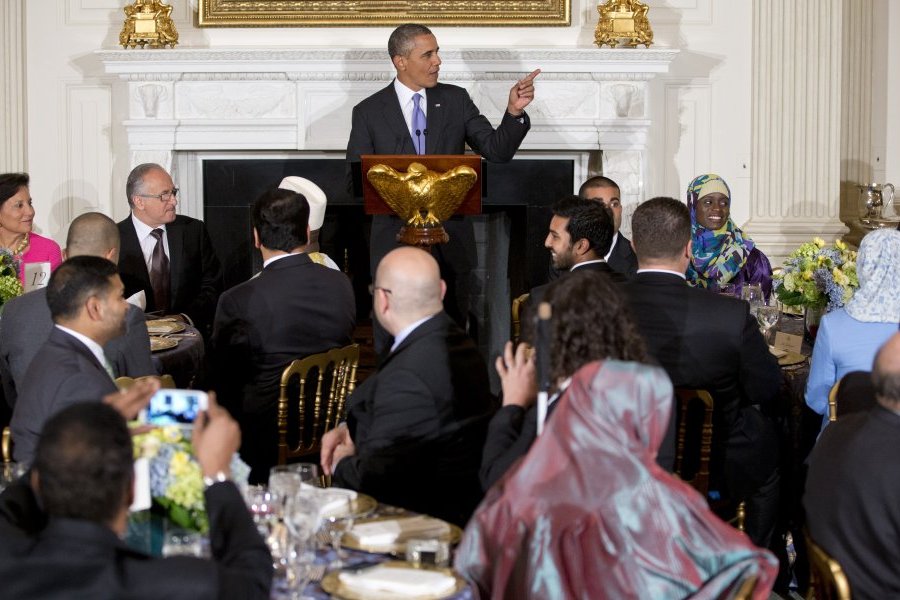 President Obama delivers remarks during the Iftar dinner, celebrating the Islamic holy month of Ramadan
US President Obama hosted annual Iftar dinner with Muslim Americans at White House to mark the Muslim holy month of Ramadan which follows daily fasting from dawn to sunset. Ramadan ends with the Islamic holiday of Eid al-Fitr.
President Obama said that Americans stand united in rejecting the targeting of any religious or ethnic group as he marked Islam's holy month of Ramadan.
Obama also said that the holiday dinner "is also a reminder of the freedoms that bind us together as Americans, including the freedom of religion -- that inviolable right to practice our faiths freely."
"We affirm that whatever our faith, we're all one family," Obama said at the East Room dinner attended by about 40 members of the diplomatic community and a few members of Congress.
He recognized several young dinner guests, including Samantha Elauf, who went to the Supreme Court to defend her right to wear a hijab. She was 17 in 2008 when she was rejected for a sales job at an Abercrombie Kids store in Tulsa, Oklahoma, after wearing a hijab to the interview.
"She was determined to defend the right to wear a hijab – to have the same opportunities as everybody else," Obama said. "She went all the way to the Supreme Court – which I didn't do at her age – and she won."
Obama spoke of three young Muslims students who were killed Feb. 10 in Chapel Hill, North Carolina, and the nine black church members killed last week in Charleston, South Carolina.
"As Americans, we insist that nobody should be targeted because of who they are, what they look like, who they love, how they worship," he said. "We stand united against these hateful acts."
The Iftar dinner, which continues a tradition started by President Clinton and continued by President George W. Bush, featured nearly the entire diplomatic corps representing the Muslim world as well as a few young Muslim Americans Obama held up as examples of what can be achieved in the United States. There were about 150 guests, including some members of Congress.
. Tags: #
America
#