US President calls on Myanmar to end discrimination against Rohingya Muslims
2015-06-02 03:51:02 | Al Muslim News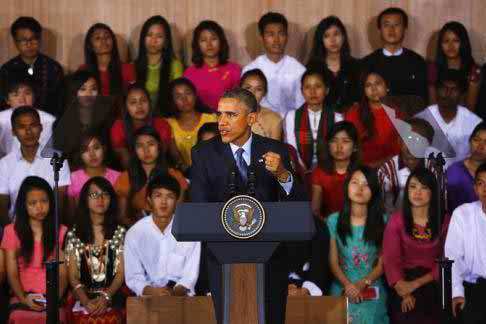 Washington: US President Barack Obama speaks during an event with group of Young Southeast Asian Leaders at White House
US President Barack Obama has urged Myanmar needed to take seriously the issue of discrimination against its ethnic Rohingya minority, if it wanted to be successful in its democratic transition from decades of military rule.
President Obama, speaking to a group of young leaders from Southeast Asia invited to the White House, said the US was focused on making sure Rohingya, who have been subject to human trafficking or are adrift at sea, are relocated.
The plight of the Muslim group, 1.3 million of whom live in western Myanmar but are mostly denied citizenship, has come under scrutiny as a migrant crisis unfurls in Southeast Asia.

Around 3,500 people, mainly Rohingya or economic migrants from Bangladesh, have reached land in Thailand, Malaysia and Indonesia, while thousands more are feared trapped on boats adrift at sea.

Obama has thrown his political weight behind the complex transition in Myanmar, which was ruled by the military with an iron fist until reforms began in 2011.

Tens of thousands of Rohingya have lived in displacement camps since 2012 when deadly communal violence tore through the western state of Rakhine.

"The Rohingya have been discriminated against significantly, and that's part of the reason they're fleeing," President Obama said.
Addressing what is "required for Myanmar to succeed", Obama said "one of the most important things is to put an end to discrimination against people because of what they look like or what their faith is."
"I think if I were a Rohingya, I would want to stay where I was born. But I'd want to make sure that my government was protecting me and that people were treating me fairly," he added.

"And that's why it's so important, I think, as part of the democratic transition, to take very seriously this issue of how the Rohingya are treated."
Myanmar does not recognize the Rohingya as a separate ethnic minority, instead calling them "Bengalis". It insists they are illegal immigrants from neighboring Bangladesh.

As a result they face restrictions on movement and on access to jobs and services, prompting thousands each year to brave the dangerous sea journey south towards Malaysia and Indonesia.

Myanmar's first census in three decades, held in 2014, did not include them in the tally after authorities refused to allow the group to identify themselves as "Rohingya".
A Hardline Buddhist campaign for tighter restrictions on all of Myanmar's Muslim population has deepened hostility to the Rohingya -- and has been met with a muted response from political leaders, including Nobel laureate Aung San Suu Kyi.
In a genocide silence is complicity, and so it is with Suu Kyi and Myanmar's desperate Rohingya community. The Myanmar government's ongoing persecution of the Rohingya has, in the last two years, reached a level so untenable that the Rohingya are faced with only two options, to remain and risk annihilation or flee. The current migration of those seeking asylum is just one manifestation of genocide.
Her absence from the discussion has been so conspicuous, even Buddhist spiritual leader Dalai Lama last week urged Suu Kyi to throw her weight behind the Rohingya Muslims.

Suu Kyi's opposition party is set to contest elections in November, which Obama has backed as a key stepping stone towards democracy.
But during his last visit to the nation in November last year, Obama warned that Myanmar's reforms were by "no means complete or irreversible", citing the cramping of freedom of expression, ongoing conflicts and the treatment of Myanmar's minority groups -- especially the Rohingya.
. Tags: #
Rohingya-Muslims
#
Discrimination
#
America
#