US Police shootings two young Muslims
2015-06-05 12:48:48 | Al Muslim News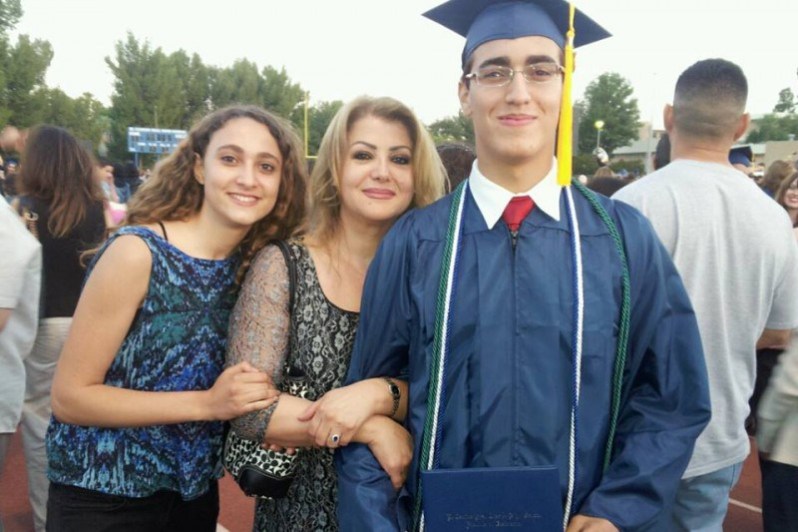 Feras Morad, 20, college student who was shot and killed by Long Beach police on May 27, standing with his mother and sister
The death of Boston resident Usaama Rahim at the hands of US authorities has sparked fresh debates on police shootings, with Muslim community leaders demanding full investigation into the issue.
"It is our duty to question every police-involved shooting to determine if the use of deadly force was necessary, particularly given the recent high profile shootings of African-American men," Jenifer Wicks National Civil Rights Litigation Director at the Council on American-Islamic Relations (CAIR), said in a statement, OnIslam.net reported.
"We are asking for an independent and thorough investigation, public release of the video and transparency, not only about the killing of Usaama Rahim, but also about the basis of monitoring and surveillance, which had not resulted in probable cause for any arrest or search warrant.
"The alleged conspiracy to murder a police officer is deeply troubling and yet another reason why transparency in this incident is crucial."
CAIR statement, issued on Wednesday, June 3, called for an "independent and thorough" investigation into the fatal shooting of Rahim by Joint Terrorism Task Force (JTTF) agents in Boston.
Rahim, 26, was shot Tuesday morning outside of a Boston CVS store.
Conflicting reports have emerged as to why he was approached by the agents and how he was shot.
While police said Rahim approached them with a foot-long military knife in Roslindale, his brother, imam Ibrahim Rahim, wrote on Facebook that Rahim was shoot in the back.
Authorities said officers backed away before firing bullets that hit Rahim in the front.
Surveillance video of the encounter was released later in a closed session with community leaders.
Abdullah Faaruuq of the Mosque for the Praising of Allah said the video was "inconclusive'', adding it was not clear to him that Rahim was armed with a knife at the moment he was shot.
Faaruuq agreed that it was clear that Rahim was not shot in the back and that officers were backing up.
"It wasn't at a bus stop and he wasn't shot in the back," he told Boston Globe.
"However, we couldn't see clearly at all exactly to answer the question whether he was brandishing a knife or not. It was like 1/20th of the overall frame. It was very far away. So we can't be clear as to what transpired," he said.
The incident came at a time of national concern about police shootings of black men.
Feras Morad, 20, was shot Wednesday night while "unarmed and in desperate need of medical attention," according to friends and relatives.
The shooting is being investigated by Long Beach police and the Los Angeles County district attorney's office.
Morad was a national champion of speech and debate, Honors Student, maintained a 3.9 GPA, was involved with various causes in his community and was just recently accepted into seven universities (Berkeley, UCI, UCSD, Concordia, Washburn, UCLA and Cal State Long Beach)
One way the Feras' loved ones and supporters have mobilized to seek answers of his tragic shooting is creating the social network pages "Justice For Feras Morad."
. Tags: #
Islamophobia
#
America
#