US Police force Muslim Woman to Remove Hijab and falsely arrested
2015-06-04 12:31:51 | Al Muslim News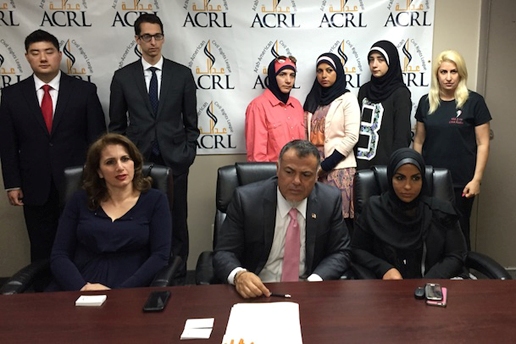 A Muslim woman was forced to remove her hijab and was arrested after a Police officer questioned a ticket that she had paid for in 2011.
The Arab-American Civil Rights League held a press conference regarding a federal complaint filed by a Muslim American woman against the Oceana County Sheriff's Department, for forcing her to remove her hijab when she was falsely arrested.
A Michigan resident, Fatima Dacroub was on vacation at the Lake Michigan Sand Dunes with her children and relatives on May 17 when a sheriff's deputy pulled her over while she was driving a rented car. The family was located in a parking lot designated for tourists, World Bulletin reported.
The police official claimed she was speeding and questioned her UAE driver's license. Dakroub had often traveled back and forth between the UAE and Michigan in recent years. Her Michigan driver's license had expired, but under state law, she was still able to operate a vehicle with a UAE driver's license and was using that license to rent the vehicle.
According to the Arab American news, a deputy questioned a ticket Dakroub had received in the county in 2011, claiming it was unpaid. She told the officer that she had paid the ticket years ago.
Dakroub was then arrested, and was asked to remove her hijab while three male officers were present. She objected at first and requested a female officer to assist her during the process, to no avail. She was led to a holding cell without the garment, where she said she was ridiculed by police.
A tearful Dakroub told reporters that the incident has scarred her and her family. She described the police officers as cruel and insensitive to her religious requirements.
"It felt really insulting and humiliating," Dakroub told reporters . "You feel so violated, and you can't do anything. I was scared that if I opposed what they were asking me, then something bad might happen, like what we've seen on TV. They might do something and then say that I resisted."
After Dakroub removed her scarf, the police officers told her she would not be able to put it back on. She was not allowed to place a phone call until three hours after her arrest and was placed in a cell where other inmates were able to look at her.
On Thursday, the Arab-American Civil Rights League who is representing Dakroub has sent a federal complaint to the U.S. District Court in the Western District of Michigan. The complaint asks for a federal judge to rule that the Oceana County Sherriff's Department's practices be deemed unconstitutional under the first amendment.
. Tags: #
Islamophobia
#
Hijab
#
America
#