US: Muslim woman discriminated on United Airlines flight
2015-06-01 04:25:28 | Al Muslim News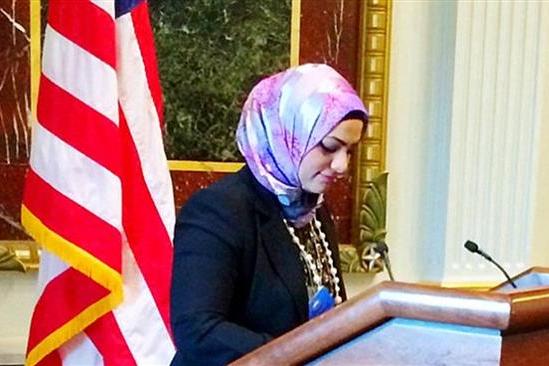 Tahera Ahmad was recognized at the White House "as a leading Muslim female in the United States" during Women`s History Month
A Muslim passenger aboard a United Airlines flight claimed she broke down into tears after she allegedly faced 'unjust discrimination' from a flight attendant and fellow passenger over simple request of unopened can of soft drink.
What happens when you ask for an unopened can of soda on an airplane? If you're a Muslim, you don't get served.
And the man sitting next to you gets an unopened can, just fine.
The incident sparked furor on social media with many people saying they may boycott the airlines unless it apologies.
The 31-year-old Muslim, who wears hijab, was traveling on Friday from Chicago to Washington for a conference promoting dialogue between Israeli and Palestinian youth.
The humiliating experience on the flight began when Tahera Ahmad, a Muslim chaplain and director of interfaith engagement at Northwestern University.
Ahmad requested an unopened can of the beverage for hygienic reasons, the flight attendant told her that she could not give her one, they were 'unauthorised' to give unopened cans to any passenger because they could be 'used as a weapon.'
When she asked for the can, but then handed an unopened can to a man seated nearby, sparking questions from Ahmad.
When Ahmad complained the flight attendant that she was being discriminated against, the attendant abruptly opened the can.
"It's so you don't use it as a weapon," Ahmad said she was told.
Feeling the shock, the Muslim woman asked passengers if they had seen what happened, only to be attacked by another man sitting across the aisle, who turned to her and yelled, "You Muslim, you need to shut up," she said.
The man leaned over, looked her in the eyes and said, "Yes, you know you would use it as a weapon. So shut up," according to Ahmad.
"I felt the hate in his voice and his raging eyes," Ahmad wrote on Facebook while the plane was still in flight.
"I can't help but cry, because I thought people would defend me and say something. Some people just shook their heads in dismay," she added in the post, which went viral on social media.
Muslim activists took to social media, calling the incident an inexcusable act of bigotry.
While some threatened to boycott United Airlines, others showed support by using the #unitedfortahera hashtag.
United spokesman Charles Hobart said the airline "strongly supports diversity and inclusion."
"We are reaching out directly to Ahmad to get a better understanding of what occurred during the flight.
Ahmad, who has Premier frequent flyer status with United, said on Saturday that she had not heard from the airline.
"I'm not doing this to go after United Airlines. This is about bigotry and racism and our country is going through a very difficult time right now. Ahmad said, breaking into tears.
"They strove so hard so that Americans would not mistreat each other on the basis of the color of their skin or religious or ethnic background, but I guess we're still on that journey."
Ahmad said that the flight attendant, as well as the pilot, apologized later.
Ahmad was recognized at the White House last year "as a leading Muslim female in the United States" during Women's History Month, according to Northwestern University. She had also previously attended a Ramadan dinner hosted by President Barack Obama.
The Islamophobic incident is not the first to face the Muslim activist, who said she has been spat on, and had her hijab ripped off in Islamophobic encounters after the September 11 attacks.
. Tags: #
Islamophobia
#
Bigotry
#
Hijab
#
Racism
#
Discrimination
#
America
#