US: Muslim teen arrested for bringing homemade clock to school
2015-09-17 08:26:30 | Al Muslim News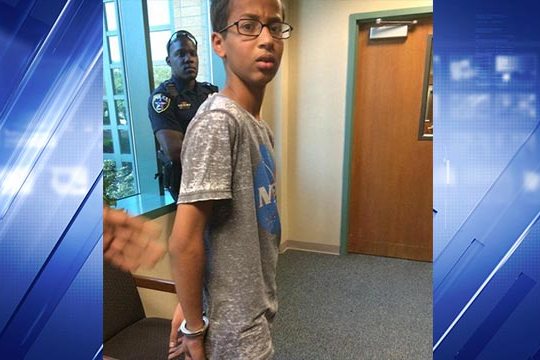 Ahmed Mohamed, a 14-year-old Texas high school student who was arrested over a clock mistaken for bomb
When American Muslim teenager, Ahmed Muhammad went to his high school in Irving, Texas, he was so excited. A teenager with dreams of becoming an engineer, he wanted to show his teacher the digital clock he'd made from a pencil case.
The 14-year-old Ahmed ended not with praise, but punishment, after the school called police and he was arrested.
"I built a clock to impress my teacher but when I showed it to her, she thought it was a threat to her," Ahmed told reporters Wednesday. "It was really sad that teacher took the wrong impression of it."
Ahmed talked to the media gathered on his front yard and appeared to wear the same NASA T-shirt he had on in a picture taken as he was being arrested. In the image, he looks confused and upset as he's being led out of school in handcuffs.
"They arrested me and they told me that I committed the crime of a hoax bomb, a fake bomb," the freshman later explained to WFAA after authorities released him.
The hashtag #IStandWithAhmed "When a white kid builds nuclear fusion reactor it's cool but when a Muslim builds a clock it's not".
Police spokesman Officer James McLellan told, "We attempted to question the juvenile about what it was and he would simply only tell us that it was a clock."
The teenager did that because, well, it was a clock, he said.
On Wednesday, police announced the teen will not be charged.
Chief Larry Boyd said Ahmed should have been "forthcoming" by going beyond the description that what he made was a clock. But Boyd said authorities determined that the teenager did not intend to alarm anyone and the device.
"The follow-up investigation revealed the device apparently was a homemade experiment, and there's no evidence to support the perception he intended to create alarm," Boyd said, describing "a homemade experiment," was innocuous.
Muslim teen, who aspires to go to MIT, said he was pleased the charges were dropped and not bothered that police didn't apologize for arresting him. After he said he was interrogated by police without an attorney present, his lawyer, Linda Moreno, told reporters they wouldn't answer any more questions about the legal process.
Ahmed is suspended until Thursday, he said, but is thinking about transferring to another high school.
Outrage over the incident -- with many saying the student was profiled because he's Muslim -- spread on social media as #IStandWithAhmed started trending worldwide.
. Tags: #
Islamophobia
#
America
#