US Muslim organization terms Morsi verdict 'trial of democracy'
2015-05-25 10:38:23 | Al Muslim News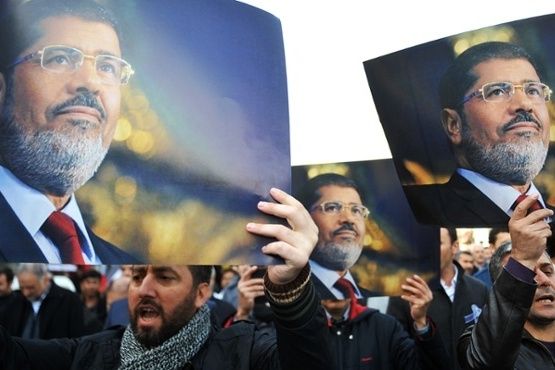 US Muslim Organizations has praised Turkey for its bold stance after an Egyptian courtís political decision
One of the largest Muslim associations in the United States has strongly condemned an Egyptian court's recent decision to impose the death penalty on Egypt's first freely elected President Mohamed Morsi.
Oussama Jammal, secretary-general of the U.S. Council of Muslim Organizations, told Anadolu Agency: "This is a trial of democracy."
Jammal termed the court's decision a trial of not only Egyptians, but all of Arab Spring countries and all people who backed freedom, democracy and rule of law in the world.
"The situation in Egypt, in particular Morsi's case, has become a symbol of [the fight for] democracy and freedom," he said.
He blamed Egypt's military-led government of "hijacking the entire Arab Spring, and democracy from people after years of struggle".
"This is a crime and those who committed this crime should be sent to trial before they put Morsi on trial," he added.
He praised Turkey for its strong support for Egypt's first elected president, but wondered why Arab and other Muslim countries shied away from giving a similar strong reaction against Morsi's death penalty.
"We thank people like President Recep Tayyip Erdogan who stood up and spoke against this," he said.
Erdogan had questioned the silence of the West over the Morsi verdict last week. "The European Union, the West, have you not abolished the capital punishment? If you have, do you have any sanctions against those who implement it? What are you waiting for? Why are you still silent?" the Turkish president said last week.
The Turkey-based Egyptian Revolutionary Council, which includes representatives of Egyptian opposition groups and former ministers of the ousted Muslim Brotherhood administration, has also strongly condemned the Egyptian court's verdict.
Maha Azzam, the council's president who was on a recent visit to the U.S. to attend a conference, told that the Egyptian people were currently facing "one of the most brutal dictatorships" over the last 60 years.
"We have over 40,000 political prisoners [in Egypt]. Many of those prisoners are members of elected members of parliament," Azzam said.
She urged the U.S. and all governments around the world to not legitimize the military regime in Egypt that "kills its own people," adding: "We ask all democratic governments not to further embrace the military dictator in Egypt."
"Western stance …has been disappointing. We were expecting the democracies of the world to stand with people seeking their rights and seeking to establish democracies in their countries," she said.
A Pakistani university professor, who was in the U.S. to speak at a conference arranged by the Islamic Community of North America, also praised Turkey for its strong support for Morsi.
"It's very sad and pathetic that the Muslim world has not given enough attention to the tragedy that took place in Egypt. Removal of Morsi was a matter of murder of democracy in Egypt," Anis Ahmad said.
Last Friday, Egyptians in New York held a rally to protest against the Morsi verdict. Around 100 protesters had gathered in front of Egypt's Consulate General in New York, seeking justice against what they called a "politically-motivated" and "flawed" trial.
In Paris, hundreds of people also protested the death sentence. About 300 people gathered at the Place de la Rebublique (Republic Square) and waved Egyptian and Tunisian flags as well as banners saying, "Silence Kills", "Morsi, legitimate President of Egypt", or "We want Justice".
On May 16, an Egyptian court had referred 122 out 166 defendants, including Morsi to the grand mufti to consider possible death sentences against them over charges of jailbreak and espionage.
The U.S. and the United Nations have both expressed concern over the decision.
Last month, Morsi and 12 codefendants were sentenced to 20 years in prison each for allegedly mobilizing supporters to "intimidate, detain and torture" dozens of anti-Morsi protesters during clashes outside eastern Cairo's Ittihadiya presidential palace in December 2012.
Morsi currently faces multiple criminal trials on charges that include espionage and "insulting the judiciary," charges he says are politically motivated.
Last year also hundreds of Egyptians were sentenced to death but rulings on only a few dozen were actually upheld, the rest were converted into 25-year imprisonment.
Since Morsi's ouster, Egyptian security forces have launched a relentless crackdown on dissent that has targeted both Islamists and secularists, leaving hundreds dead and thousands behind bars.
The current President and former Egyptian army chief, Abdel-Fattah al-Sisi, had approved a law last year that opened the door for referring violations against state institutions to military courts.
. Tags: #
Arab-World
#
America
#