US court backs Muslim woman denied job over hijab
2015-06-02 04:56:04 | Al Muslim News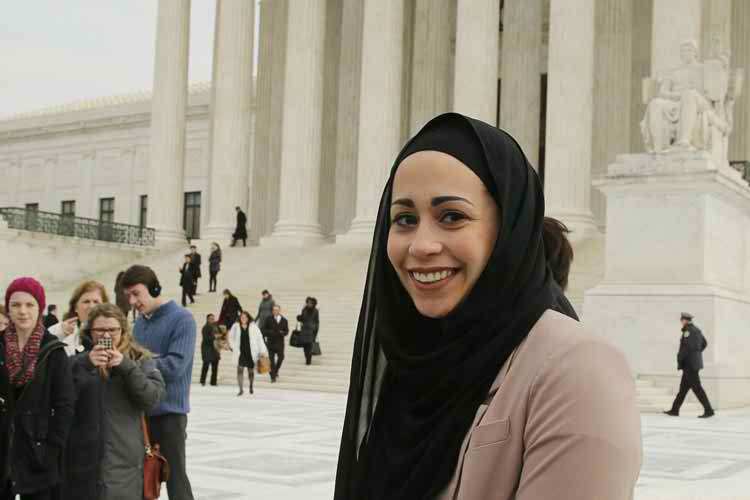 Samantha Elauf outside the US Supreme Court. Elauf was not hired by because she wore a hijab during her job interview,
Following years of litigation, the US Supreme Court on Monday ruled in favor of a Muslim woman who sued for discrimination after being denied a sales job at age 17 at a clothing store in Oklahoma because she wore a head scarf for religious reasons.
In an 8-1 decision in the important religious rights case, the court backed Samantha Elauf, who had been rejected under Abercrombie's sales staff "look policy" after coming to her job interview wearing the head scarf, or hijab, used by many Muslim women, FMT reported.
Elauf, then 17-year-old girl was rejected for failing to look like "model" employee according to the retailer "look policy."
The decision marked a victory for the U.S. Equal Employment Opportunity Commission (EEOC), the federal agency that sued the company on Elauf's behalf after she was turned down in 2008 at an Abercrombie & Fitch Co clothing store in Tulsa.
"Observance of my faith should not have prevented me from getting a job. I am glad that I stood up for my rights, and happy that the EEOC was there for me and took my complaint to the courts," Elauf said in a statement issued by the EEOC.
Elauf, now 24, initially won a $20,000 judgment against Abercrombie before a federal district court. The 10th US Circuit Court of Appeals in Denver then threw that out, ruling in favor of Abercrombie, before the high court backed Elauf.
"We welcome this historic ruling in defense of religious freedom at a time when the American Muslim community is facing increased levels of Islamophobia," said Nihad Awad, the national executive director of the Council on American-Islamic Relations (CAIR).
Abercrombie said in a statement the case will continue, noting the justices had not ruled that discrimination took place. "We will determine our next steps in the litigation," Abercrombie said.
Muslim groups said in court papers in support of Elauf that employment discrimination against Muslims is widespread in the United States. Often, the act of a woman wearing a head scarf triggers the discrimination, they said.
The EEOC says Muslims file more employment claims about discrimination and the failure to provide religious accommodations than any other religious group.
. Tags: #
Hijab
#
Discrimination
#
America
#