US court allows YouTube to show again blasphemous film
2015-05-22 08:46:29 | Al Muslim News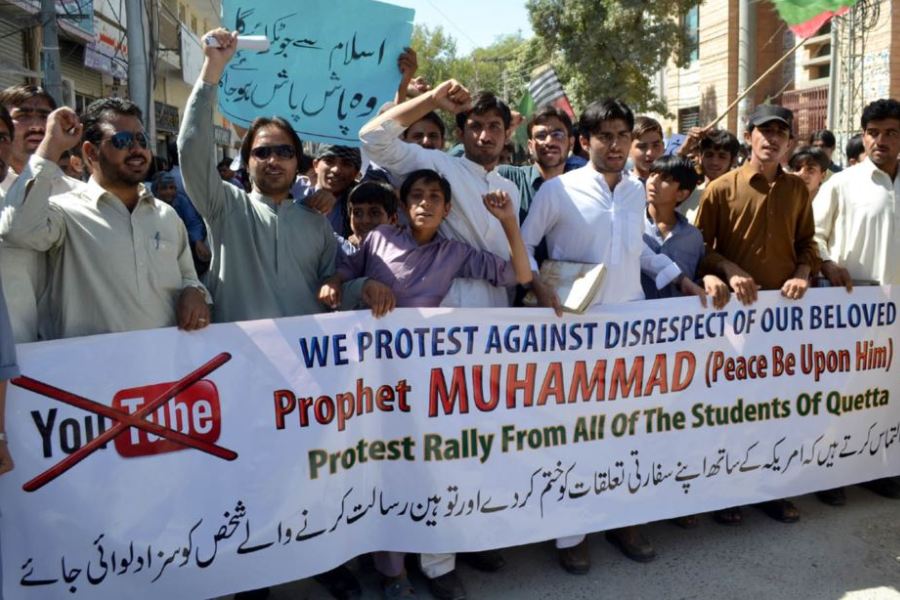 Pakistani Muslims protest against youtube`s blasphemous video
An 11-judge panel of the US Court sided with Google, which owns YouTube and ruled that Google-owned YouTube should be allowed to show an uploaded film that sparked outrage in the Muslim world. The blasphemous video, "Innocence of Muslims," depicted the Prophet Muhammad in a negative light.
The blasphemous movie trigged riots in Muslim world, and President Barack Obama along with other world leaders asked Google to take it down.
The three judges had ordered that YouTube take down the video, after actress Cindy Lee Garcia demanded that it be pulled. The actress was featured in a short section of the film, in which footage of her from another movie was dubbed with lines deemed blasphemous to the Islamic Prophet Muhammad (PBUH).
The plaintiff actress in the movie said that she was unaware that anti-Islamic material would be added in a short section of the film and a dubbed-over line was given to her character which was offensive to the Islamic religion.
According to the ruling, "Film producers dubbed over Garcia's lines and replaced them with a voice asking, 'Is your Mohammed (PBUH) a child molester?'"
"In this case, a heartfelt plea for personal protection is juxtaposed with the limits of copyright law and fundamental principles of free speech," Justice Margaret McKeown wrote for the appellate court.
"By all accounts, Cindy Lee Garcia was bamboozled when a movie producer transformed her five-second acting performance into part of a blasphemous video proclamation against the Prophet of Islam (PBUH)."
The justices while expressing sympathy for the plight of the actress reasoned that "a weak copyright claim cannot justify censorship in the guise of authorship."
Any depiction of the prophet (PBUH) is considered blasphemous. The movie triggered unrest and violent clashes in the Muslim world that left dozens dead in September 2012.
. Tags: #
Anti-Islam
#
Bigotry
#
Hate-speech
#
America
#