US calls Afghan hospital Air strike a mistake, seeks accountability
2015-10-08 00:57:46 | Al Muslim News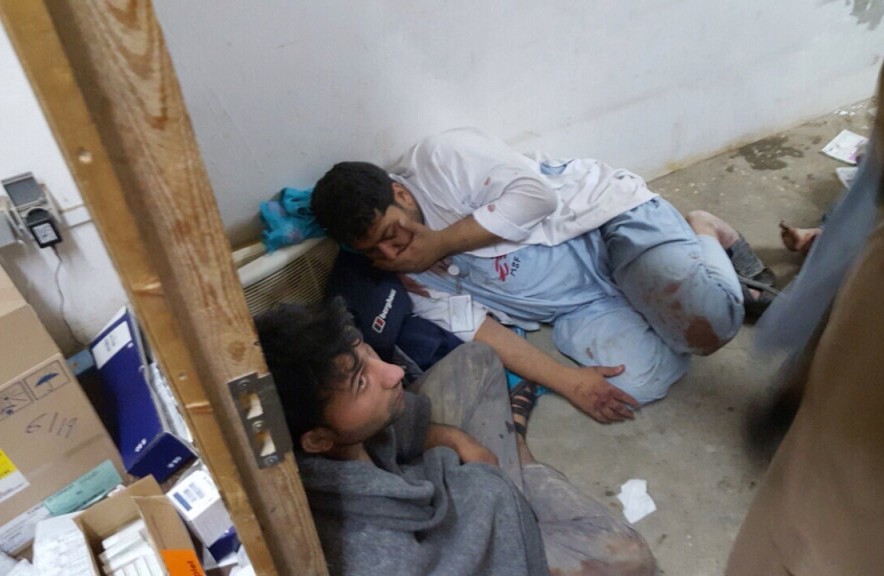 Injured Hospital staff is seen after US attack in Kundoz hospital. The bombardment killed 12 staff, along with 10 patients including three children.
The U.S. Commander took responsibility on Tuesday for a deadly air strike on a hospital in the Afghan city of Kunduz, even as the Pentagon continued to struggle to explain the bombardment that killed 22 innocents, calling it a mistake and vowing to hold people accountable.
Saturday's bombing on an Afghan hospital run by Doctors Without Borders, or Medecins Sans Frontieres (MSF), killed 22 people and deeply angered the medical charity. MSF officials have blamed the United States, demanding an independent investigation into an attack it called a war crime.
US President Barack Obama expected steps to be taken to prevent such an incident from recurring, White House spokesman Josh Earnest said.
US Defense Secretary Ash Carter said the Pentagon "deeply regrets" the loss of life. "The U.S. military takes the greatest care in our operations to prevent the loss of innocent life, and when we make mistakes, we own up to them. That's exactly what we're doing right now," Carter, who was traveling in Europe, said in a statement.
Earlier in Washington, the American commander of international forces in Afghanistan, Army General John Campbell, called the strike a mistake made within the U.S. chain of command.
The comments by Carter and Campbell were the most direct acknowledgement yet by the U.S. government that the strike on the hospital was carried out by U.S. forces.
Campbell said U.S. forces had responded to a request from Afghan forces and provided close air support as they engaged in a fight with Taliban militants in Kunduz, a provincial capital that the Taliban captured late last month.
"To be clear, the decision to provide aerial fires was a U.S. decision made within the U.S. chain of command," Campbell said. He added that U.S. special forces nearby were communicating with the aircraft that delivered the strikes.
MSF branded the strikes a war crime, and has pulled out of Kunduz in the aftermath of the attack.
"The hospital was deliberately bombed," MSF International's president Joanne Liu said in a statement that called the attack "unacceptable."
Liu said 12 MSF staff were among the dead, along with 10 patients including three children.
"Until proven otherwise, the events of last Saturday amount to an inexcusable violation of this law" protecting health facilities during conflict zones, she said.
"We are working on the presumption of a war crime."
. Tags: #