US Actress Lindsay nowadays studying Quran
2015-05-16 06:58:42 | Al Muslim Editor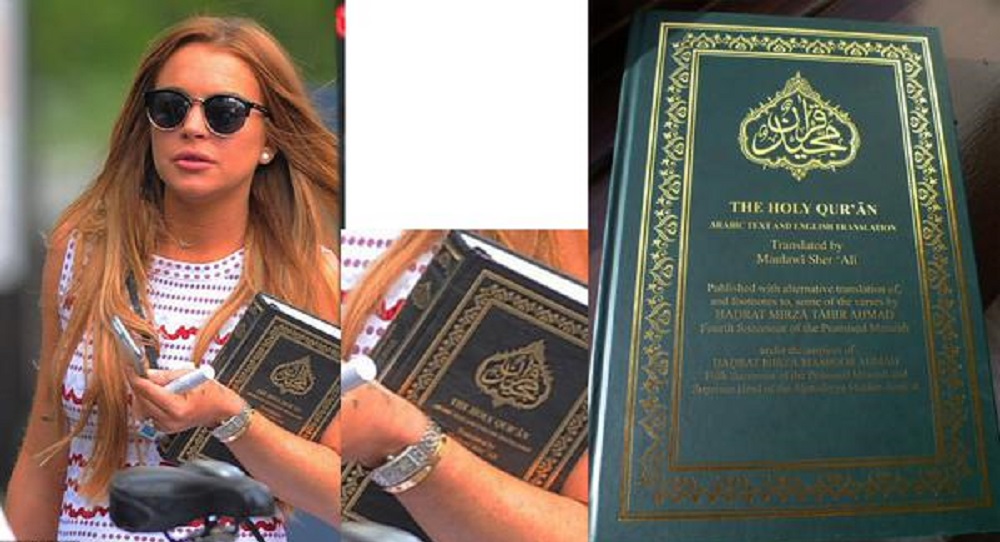 American Actress Lindsay Lohan was spotted carrying a copy of the Quran in Brooklyn, New York
American actress Lindsay Lohan was photographed carrying a copy of the Qur'an on Wednesday, May 13, after her first day of community service at children's center in Brooklyn, New York, sparking rumors about her beliefs.
The American actress of Irish and Italian descent was raised as a Catholic. She held a copy of the Muslim holy book in her arm as she finished a day of office work at a children's center. The Actress has shown interest in other faiths since her early age.
.
According to reports, the 28-year-old Lindsay Lohanhas embarked on an "emotional detox" by giving up alcohol and dating.
Earlier this year, she uploaded an Instagram image of a quote from the Quran but later deleted it.
The Troubled actress has become a regular in the court room since the past few years. She is currently doing community service as a result of a 2012 reckless-driving charge in Los Angeles. According to the New York Daily News, she has 125 hours to complete by May 28.
Despite as a Catholic Christian, she wore a Kabbalah red string bracelet, which wards off misfortune brought about by the 'evil eye', during her teen years.
She reportedly joined Courtney Love's Buddhist chanting group, in 2012.
The fluctuations in her beliefs were reflected before in a docu-series with Oprah Winfrey in which Lindsay described herself as a 'very spiritual person'.
"I am a very spiritual person and I've become more spiritual as time has gone on," Lohan said during show.
"I am really in touch, whether it's prayer or meditation... there are so many powers greater than me in the world. I've been blessed and lucky enough to have been given a gift to share with other people."
Lindsay has recently completed some of her work at the UK-based charity Community Service Volunteers.
The Holy Quran is the Word of Allah. It is the most sacred book. Muslims must respect this book and must honor it.
There is only one Quran which is in Arabic, with many of its translations in several languages.
. Tags: #