UNESCO association empowers Palestine against Israel
2015-05-23 08:24:08 | Al Muslim News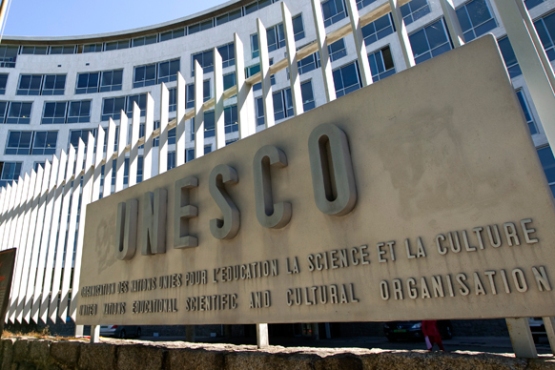 UNESCO headquarter, Place de Fontenoy, Paris, France
Palestine was elected earlier this week to chair the 3rd Meeting of States Parties to the UNESCO 1970 Convention on illegal Trafficking of Cultural Property, for the first time ever.
Palestine became the 195th full member of UNESCO in 2011 with the support of a large majority of countries.
Chairing a meeting of nearly 130 States Parties has "both symbolic and practical" significance for Palestine, Mounir Anastas, deputy ambassador of Palestine to UNESCO said, Anadolu Agency reported.
According to Anastas, the meeting that mainly aims to recover embezzled cultural property, is a significant legal tool for Palestine that saw its own property "illegally exported or even stolen," particularly because of Israel's partial occupation of the West Bank.
"As you see, Israel is not among the states parties to attend the meeting, which will offer Palestine a legal framework to seek its rights," Anastas said.
The United Nations organization has defied the United States' 60 million-dollar financial contribution cutoff and has lost 22 percent of its budget. The U.S. also lost its veto power.
Speaking about the process that led to the election of the Palestinian delegation to chair the meeting, Anastas said the initiative made by the Arab countries was "fully supported by Turkey."
The Turkish delegation, which currently holds the presidency of the regional bloc of "Western European and Other States" in the UN, was consulted as a national delegation and Chair of its voting group, Anastas said.
As for the reaction of the other states members, Anastas said the delegation received "a lot of positive feedback."
"Even states that had voted against the recognition of Palestine as a full member state to UNESCO, like Canada and Germany, congratulated us, except the United States."
Asked about the possibility of chairing another UN meeting, Anastas was optimistic.
"We are here to practice our membership," he said.
UNESCO is currently the only UN agency that recognizes Palestine as a full member state.
. Tags: #
Middle-East
#
Arab-World
#
Palestine
#