UN Considers Blacklisting Israeli Military for Crimes against Children
2015-05-29 10:13:31 | Al Muslim News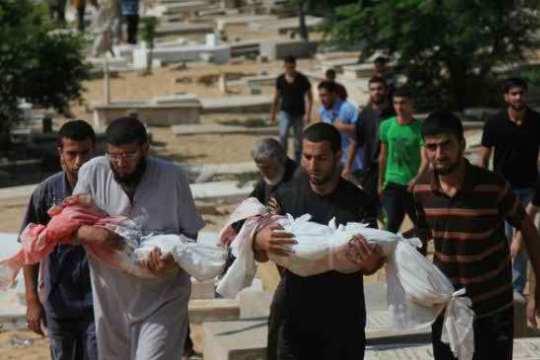 557 Children killed and 3,374 injured by Israeli Army (IDF) in Gaza attack in 2014
A push is currently being made to add Israeli Army to the blacklist of the UN council for Children and Armed Conflict.
United Nations will consider the Israeli Defence Forces (IDF) adding to the blacklist of terror groups that also includes the Islamic State and Boko Haram as well as African countries such as the Republic of Congo, the Central African Republic and others.
The move is recommended by Leila Zerrougui, the UN secretary-general's special representative for children and armed conflict.
Zerrougui said such an act must be taken because of some 500 Palestinian children who were killed and 3,300 others who were injured during last summer's Israeli aggression against the Gaza Strip. The latest report by Ms. Zerrougui includes an appendix that also recommends blacklisting various branches of affiliates of al-Qaeda and the Taliban, as well as countries such as the Central African Republic and the Republic of Congo.
Observers believe the UN Secretary General, Ban Ki-moon seems likely to resist the recommendation because the move could fully terminate ties between the UN and Jewish State.
Israel is said to have brought on immense pressure on the U.N. against the move and it can count on the support of the United States, its closest ally.
However, the Palestinians and their supporters and human rights groups are strongly backing the recommendation to put IDF on the blacklist.
Media reports quoted, US senator Lindsey Graham, a vocal supporter of Israel said the US will cut funding to the United Nation, should the world body continue to function in a manner that "marginalizes" Israel.
Israel started its latest war on the Gaza Strip in early July last year. The onslaught ended on August 26, 2014, with a truce that took effect after indirect negotiations in the Egyptian capital, Cairo.
Nearly 2,200 Palestinians, including 577 children, were killed in Israel's 50-day attack. Over 11,100 others - including 3,374 children, 2,088 women and 410 elderly people - were also injured and only 73 on the Israeli side, most of them soldiers.
It caused heavy damage to Gaza's infrastructure and damaged more than 160,000 homes. Reports say that Gaza needs USD 6 billion to rebuild its devastated infrastructure as the Israeli attacks have intentionally destroyed many houses, hospitals, schools and mosques across the Palestinian territory.
. Tags: #
Middle-East
#
Israel
#
Palestine
#