Ugandan Muslims broadcast first Islamic television channel
2015-08-24 00:11:27 | Al Muslim News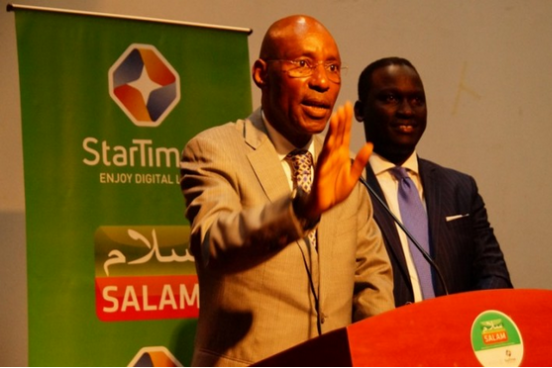 Mr. Godfrey Mutabazi the executive director of Uganda Communication Commission speaking at the launch of Salam TV
Muslims in Uganda have launched the country's first-ever Islamic television channel, with the hope that it will ignite a revival of their faith subsequent to years of Muslim voices being silenced in mainstream media.
"Our listeners demanded for a television station they [could] relate to, and that is how the idea [materialized] was conceived," Salam TV managing director Al-Hajji Karim Kalisa said, OnIslam reported.
Despite having several Islamic radio stations in the country, the demand for an Islamic TV channel had intensified over the years.
"We approached television owners, who sympathized with Islamic programs, but they would either allocate fifteen or thirty minute's maximum and call it the Islamic half hour," Kalisa added.
The dream came closer to becoming reality when one of the three local television channels agreed to give Muslims extra time slots during Ramadan 2014.
The agreement reached during Ramadan was a breakthrough in effort to launch Salam TV, which goes back to Uganda's liberalization of the media industry in 1993.
At this time Kalisa was working as an administrator with the Union of Muslim Countries (UMC) for East, Central and Southern Africa.
The Union supported the setup of five Islamic radio stations in the country.
"Our main agenda is to develop the Muslim community and ensure they have enough knowledge and information to enable them live happier lives," he said.
The dream came to fruition on June 10, 2015, just before Ramadan, when Muslims in Uganda were treated to the news of the first ever Islamic television programming in the country.
Kalisa emphasized that through Salam TV programming, they are ensuring their programs are beneficial for the entire family.
"The feedback we have [received] so far is that this is the only television [station] one can watch with their children and in-laws without feeling ashamed," he added.
Qur'an School
After launch of the Islamic TV channel, Kalisa led a campaign to refurbish the oldest Qur'an school in the country, known as Lukalu, which was founded in the Butambala District in Central Uganda.
"The Prophet Muhammad (PBUH) received the first message of education, so we want to see how we can develop our people through education," he told OnIslam.net
"The school is in bad shape, our grandfathers with the little knowledge they had, put it up because Islam was the first foreign civilization they got in the early 80's."
Since then organizers have collected over $141,000 through fundraising, and construction is now on the horizon.
The TV channel and Qur'an school were urged to restore the true image and teachings of Islam in Uganda.
Islam was introduced to Uganda by Arabs to King Ssuuna II of Buganda in 1884, which influenced use of words such as Kalaam (Pen), Kitab (book), Swabun (soap) and Sukar (sugar.).
With Uganda falling under British rule, Christianity was offered a chance to grow as part of the school curriculum, in the meantime, Islam was forced to remain in the shadows.
"The whites didn't help Muslims integrate Islam with their system of education by setting it aside and pushing for Christianity in the system."
By 1962, after Uganda's Independence from British colonization, there were only two Muslim graduates that according to Kalisa.
"Many Muslims, including former President Yusuf Lule, were forced to convert to Christianity in order to study," he lamented.
Most Muslim scholars were left with no jobs, forcing the closure of Qur'an schools in favor of secular schools.
Beaming with pride, Kalisa notes, "But now many Islamic founded schools have come up teaching Islamic theology alongside the British curriculum."
Success
With the revival of Islamic TV and schools in Uganda, Muslim leaders have been working to bring scholars from different parts of the world to preach the true teachings of Islam, in accordance with the Qur'an and the teachings of Prophet Muhammad (Peace Be Upon Him).
"The audience has been very welcoming since all we do is talk about the beauty of Islam," Salam TV's head of Daawah, at the Salam TV station, Shaban Uthman Menya, told OnIslam.net.
. Tags: #