Turkish President calls for solution-based change in UN
2015-04-21 09:47:38 | Al Muslim News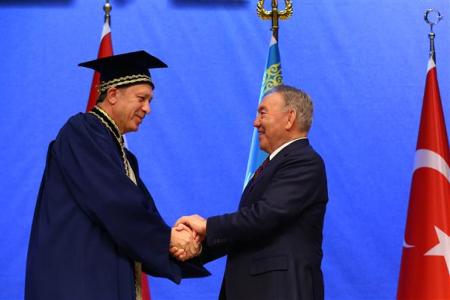 Turkey's President Tayyip Erdogan has called for a structural change in the United Nations' system, saying it should be "solution-based".
President Erdogan criticizes United Nation Security Council's response to world turmoil during speech in Kazakhstan, Anadolu Agency reported.
Speaking at the Khoja Ahmed Yassawi University in Kazakhtan's city of Turkistan, where he was awarded an honorary PhD degree, he said the international order must change and the United Nations Security Council should not just consist of five members.
"How can the United Nation Security Council, who was just a mere spectator when more than 300,000 civilians were killed in Syria, promise a safe future?" Erdogan said.
Referring to the ongoing unrest in Egypt, Libya, Afghanistan and Palestine, he said: "The world's fate should not be decided by just five permanent members of the UN."
Referring to China, France, the Russia, the United Kingdom and U.S.A comprising the Security Council, he said: "This is not fair."
. Tags: #