Turkish-European group distributes Ramadan food to Philippine Muslims
2015-06-20 02:24:14 | Al Muslim News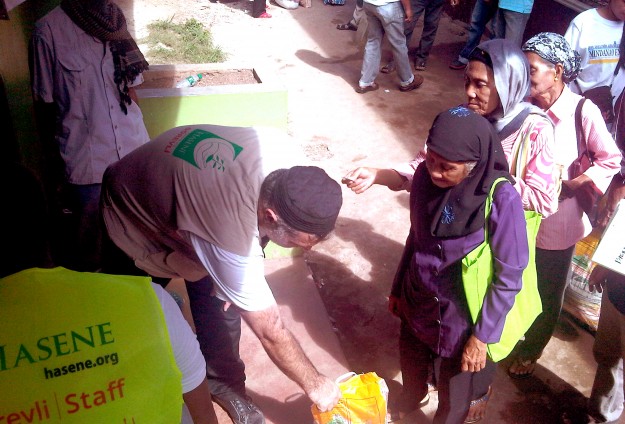 Muslim organization Hasene IGMG gives humanitarian assistance for Ramadan in Philippines` Muslim south
A Turkish-European organization has distributed almost Php 1.5 million ($33,400) in Ramadan food packages to over a thousand needy Muslims in the Philippines' southern island province of Basilan.
This donation is part of Muslim organization Hasene IGMG's special humanitarian assistance during the Islamic fasting month, the group said in statement, Anadolu Agency reported.
Hasene IGMG is a not-for-profit organisation set up by Turkish Muslims working in Germany.
The event saw team leader Orhan Atakan, Kemal Sagdic and Bilal Kilic personally hand out Php 1,433,487.40 worth of food items to more than 1,000 poor Muslim families at two locations in the cities of Isabela and Lamitan.
"Hasene Ramadan Food Package Campaign 2015" project documenter Ahmad Al-Amin told Anadolu Agency in a statement that the beneficiaries of the items included widows, orphanages, people with disabilities and poor families with five or more dependents.
Each package contained 10 kilograms of rice, six packs of sardines, one pack of noodles, 10 packets of coffee, 5 kilograms of sugar, 3 kilograms of flour, 1 kilograms salt, 1 pack of juice drinks, 1 bottle of soy sauce, 1 pack of baking powder, and a pack of cooking oil.
It was the second such donation following last year's distribution of food packages to thousands of internally displaced people in Maluso, Basilan following fighting with rebel groups.
On Thursday, more than 7 million Muslims in the Philippines' started fasting in observance with one of the five pillars of Islam.
From Thursday, the Autonomous Region in Muslim Mindanao (ARMM) government has adjusted the working hours of Muslim employees, from 7 a.m. (0000GMT) to 3 p.m. This schedule will last until Eid al-Fitr - the feast of breaking the fast - on July 17 or 18.
In his Ramadan message, Maguindanao Gov. Esmael Mangudadatu said: "Let's keep praying for peace and for the success of the peace efforts of the government and the Moro Islamic Liberation Front (MILF) during this holy month."
"Let us take this opportunity to spread the message of love, compassion, and peace among us and to our non-Muslim brothers and sisters in Mindanao, the Philippines, and across the world," ARMM Gov. Mujiv Hataman said in his Ramadan message.
Islam is the oldest recorded monotheistic religion in the Philippines. Islam arrived in the Philippines in the early of 14th century with the arrival of Muslim traders from the Persian Gulf, Indian sub-continent and Arab. The Muslim Philippines is estimated to be in the range of 8% - 11% of the total population.
While the Christianity introduced in Philippines in the late 16th century, with the landing of Ferdinand Magellan in 1521.
. Tags: #
Moro-Muslims
#