Turkish aid agency restores girls` school in Afghanistan
2015-06-10 10:30:09 | Al Muslim News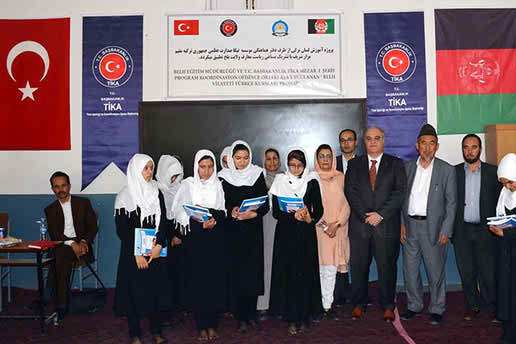 As well as repairing the school in the Kabul, Turkish Cooperation and Coordination Agency provided materials to activate its science laboratories
The Turkish Cooperation and Coordination Agency (TIKA) has repaired a girls' school in the capital of Afghanistan, Kabul, it was announced Wednesday.
The TIKA, which is a government body under the Turkish Prime Ministry, also provided the school in Karabakh district with materials to activate the school's computer, physics, chemistry and biology laboratories, Anadolu Agency reported.
TIKA repaired the building of the school and its sports arena, and established laboratories, which were previously unavailable, TIKA's Coordinator in Kabul Suleyman Sahin said in his speech at the school's opening ceremony.
Sahin hoped that the students at the school would now get a better education.
An official from Karabakh education administration, Rohullan Davuzai, thanked the Turkish agency for its generous aid.
The students before had a computer class, but had no computers, Davuzai said, adding that the students now would have a chance of doing their experiments in chemistry, physics and biology classes at the new laboratories.
About 1,800 students get education at the school.
The opening ceremony was also attended by an Afghan lawmaker, Enayatullah Babur Farahmand, District Governor Abdul Sami Sharif and several other officials.
Earlier, the Turkish agency repaired a health center in the same district and also supported the agricultural sector in the area.
Established in 1992, Turkey's government-run TIKA agency is responsible for implementing Turkey's developmental cooperation policies overseas.
. Tags: #