Turkey-funded Mosque in Romania sparks resistance
2015-07-22 08:44:13 | Al Muslim News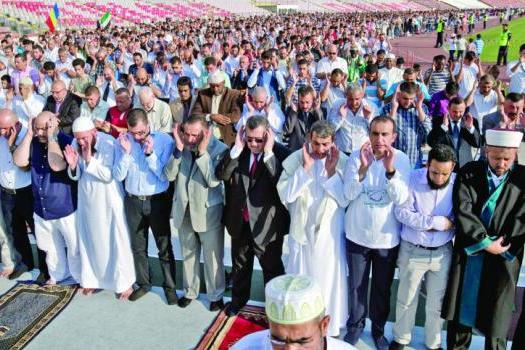 Muslims take part in Eid al-Fitr prayers at the Dinamo stadium in the Romanian capital, Bucarest.
The Proposed mosque is the outcome of 11 years effort of talks and promises between the Turkey and Romania.
Resistance is growing in Bucharest to a giant mosque proposed for the city and financed by Turkey, as part of its push to build religious centers in major cities outside the country.
The Romanian government has given 11,000 sqm of terrain next to the exhibition centre 'Romexpo' with a market value of €3.9 million for free to the Mufti of the Romanian Muslim Community, Murat Yusuf, EU Observer reported.
"Once we start to build the mosque, they will see it will benefit all Romanian society", Mufit Yusuf said.
On the site, Turkey will finance the building of a mosque, initially meant to be "the largest in a European capital".
The Bucharest mosque is the outcome of 11 years of talks and promises between the Romanian and Turkish states.
In return, Romania requested the construction of a new Orthodox Church in Istanbul.
Romania has around 64,000 Muslims, with the vast majority living around the port of Constanta.
There are estimated to be around 10,000 Muslims in Bucharest.
The Bucharest move is part of Turkey's general policy of financing international religious centers. A $100 million mosque is under construction in Lanham, Maryland, close to Washington DC, co-financed by the Turks.
In the Bulgarian city of Kardzhali there is an ongoing plan for a mosque for 1,500 worshippers, a gift from Turkey to the city.
In May this year Erdogan laid the foundation stone on a new €30 million mosque in Tirana, Albania, which the Turkish state is financing for 20,000 capacities over 20,000 sqm, called the biggest in the in the Eastern Eurpope.
In the same month, a design emerged of a mosque to be built in Budapest, Hungary, financed by Turkey, but they have not yet found a suitable location.
In February, during a visit to Cuba, Erdogan also proposed the construction of a mosque in Havana.
. Tags: #
Islamophobia
#
Muslim-minorities
#
Turkey
#