Turkey and Qatar: Behind the strategic alliance
2017-10-30 10:13:14 | MUHAMMAD IRFAN ALI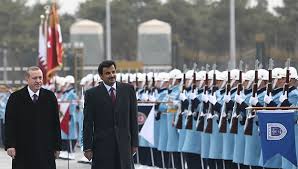 The third meeting of Turkey-Qatar Supreme Strategic Committee at the ministerial level kicked off in Istanbul on Monday, October 23. Al Jazeera examines the strategic relationship binding the two countries.
In an extraordinary session on June 7, Turkey's parliament ratified two 2014 deals allowing Turkish troops to be deployed in Qatar and another approving an accord between the two countries on military training cooperation.
The agreements aimed to raise Qatar's defence capabilities, support "counter-terror" efforts and maintain security and stability in the region.
Five armoured vehicles and 23 military Turkish military personnel arrived in Doha on June 18 with plans to increase the number of troops to 3,000 and keep a brigade in the Gulf country.
The blockading countries have set the closure of the Turkish base in Qatar as one of 13 conditions to restore relations with Doha.
During the attempted Turkish coup in 2016, Qatar quickly offered support to its government, and, as noted by the Turkish ambassador to Qatar, "Sheikh Tamim bin Hamad Al Thani was the first leader to call President Erdogan and express support to our government and Turkish people.
. Tags: #