Truck crashes into Sweden store, three people dead
2017-04-07 11:52:31 | #nomi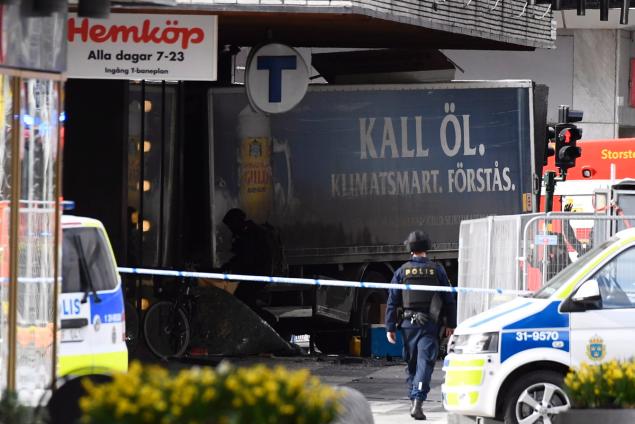 Truck crashes into Sweden store, three people dead
A truck slammed into a crowd of people outside a busy department store in central Stockholm on Friday, causing "deaths" in what the prime minister described as a "terror attack."
"There are deaths, and many injured," Nina Odermalm Schei, a spokeswoman for Swedish intelligence agency Sapo, told AFP, without giving a precise figure.
"Sweden has been attacked. Everything points to a terror attack," said Prime Minister Stefan Lofven. Pictures showed a large blue truck with a mangled undercarriage smashed into the Ahlens department store.
A spokeswoman for transport company Spendrups told AFP that the truck "had been stolen during a delivery to a restaurant." The incident occurred just before 1300 GMT at the corner of the store and Drottninggatan, the city's biggest pedestrian street, above ground from Stockholm's central subway station.
Thick smoke was rising from the scene, while video images showed an area blocked off by police and crowds gathering around the police cordon.
Police vans circulating in the city using loudspeakers urged people to go straight home and avoid large crowds.
Passers react at the scene where a truck crashed into the Ahlens department store. —AFP
The centre of the usually buzzing city was in lockdown, with the central train station evacuated and other shops quickly emptied of shoppers.
The Stockholm metro was completely shut down, with the attack taking place at the city's T-Centralen station, through which all the city's lines pass.
Helicopters could be heard hovering in the sky over central Stockholm, and a large number of police cars and ambulances were dispatched to the scene, witnesses said.
European politicians reacted with solidarity to the news of the attack, with European Commission President Jean-Claude Juncker saying that it was an "attack on us all."
Meanwhile, a spokesman for German Chancellor Angela Merkel said: "Our thoughts go out to the people in Stockholm, to the injured, their relatives, rescuers and police.
"We stand together against terror."
Police officers guard at the downtown in Stockholm.Reuters
It was not immediately clear whether it was an accident or an attack.
. Tags: #