Three Muslim students shot dead near the University of North Carolina.
2015-02-13 06:32:23 | Al Muslim News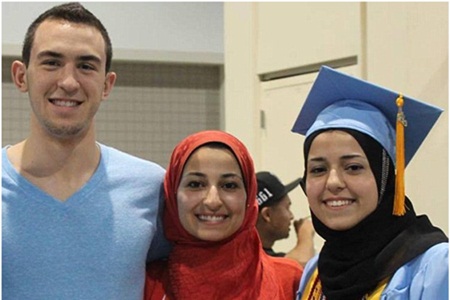 Three American students have been shot to death at a residential complex of the University of North Carolina at Chapel Hill and a suspect has been arrested over the incident, according to local police. The couple is only thought to have been married a month ago and was a second year student at the dental school at the University of North Carolina. The couple had organized online fundraising for Syrian refugees. Chapel Hill police said that Craig Stephen Hicks, 46, was arrested and charged with killing the three Muslim students. Chapel Hill police said that "preliminary investigation shows that the crime was motivated by an ongoing neighbor dispute over parking." Hicks shared a number of anti-religion posts, describing himself as a supporter of 'Atheists for Equality' on his Facebook page. A poster about 'anti-theism' is prominent on his page. Most of the photos he has posted in recent months criticize a number of religions. Other latest pictures he has published include one of a loaded revolver. In one post allegedly written by Hicks: 'When it comes to insults, your religion started this, not me. If your religion kept its big mouth shut, so would I.'.
Tags: #