Thousands of Palestinians from the occupied West Bank marched to East Jerusalems
2015-06-20 05:03:53 | Al Muslim News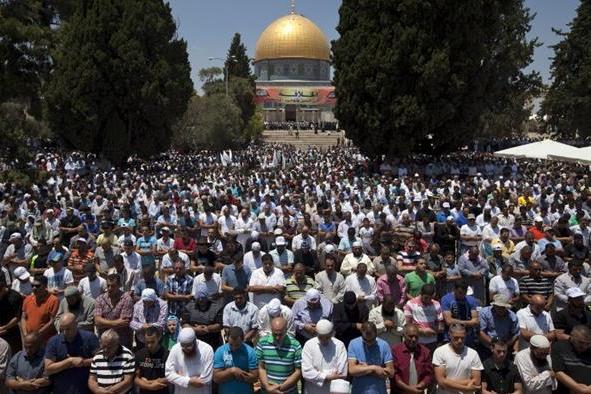 Jerusalem is home to the Al-Aqsa Mosque, which for Muslims represents the world`s third holiest site

Thousands of Palestinians Muslims from the occupied West Bank marched to East Jerusalem's Al-Aqsa Mosque to mark the first Friday prayers of holy month of Ramadan.
Men over 40, children under 12 and women of all ages were allowed by the Israeli authorities to enter occupied East Jerusalem without permits.
The Israeli authorities, for their part, stepped up security measures around the flashpoint mosque, deploying thousands of troops in surrounding alleyways and erecting roadblocks at the entrances of Jerusalem's Old City.
"It's the first time I pray at Al-Aqsa Mosque in two years because Israel prohibits us from praying here," Mohamed Maslmani, 43, told Anadolu Agency. "I missed the Old City of Jerusalem, the smell of the markets, and the lovely people."
"It took me three hours to get to the Al-Aqsa Mosque from my home in Nablus," he added, saying he planned to savor every minute inside the iconic mosque.
"We'll eat fateer (breaking fast) and pray the Taraweeh (Fast prayer) before leaving," he said excitedly.
Salima Ahmad, 35, from the West Bank city of Jenin, told Anadolu Agency that she had cried when she entered the Al-Aqsa Mosque compound.
"It's an indescribable feeling to pray in Al-Aqsa," she said. "Unfortunately, Israel only lets us enter the mosque during Ramadan."
"Every Friday during Ramadan, we will come here to pray in this holy mosque," she added.
The holy city's markets opened early on Friday morning to receive thousands of worshipers from all over the West Bank.
"Thousands of people from all over the country entered Jerusalem since the morning, buying many things from the market," Ahmad Gaith, 55, a merchant from Jerusalem's Old City, told Anadolu Agency.
"We wait for Ramadan each year to feel life in our city. Jerusalem remains full of people 24 hours a day," he said.
Sheikh Azzam al-Khatib, director-general of Muslim endowments and Al-Aqsa affairs, told Anadolu Agency that some 220,000 worshipers had prayed at Al-Aqsa on the first Friday of Ramadan.
"It's expected that around 100,000 worshipers from the West Bank and Gaza Strip will stay for Taraweeh prayers," he said.
Israel, for its part, allowed around 500 Palestinians from the blockaded Gaza Strip to pray at Al-Aqsa on Friday.
"I can't believe I'm in Jerusalem and that I performed Friday prayers at Al-Aqsa," Issam Zayyan, 55, from the city of Khan Younis in the Gaza Strip, told Anadolu Agency.
He said it was his first visit to the city in 17 years, adding: "It's the best day of my life."
Israel, he said, "thinks it can take Al-Aqsa from us. But the holy mosque will remain in our hearts until we take it back."
Israel occupied East Jerusalem and the West Bank during the 1967 Middle East War. It later annexed the holy city in 1980, claiming it as the unified capital of the self-proclaimed Jewish state – a move never recognized by the international community.
Sacred to both Muslims and Jews, Jerusalem is home to the Al-Aqsa Mosque, which for Muslims represents the world's third holiest site. Jews, for their part, refer to the area as the "Temple Mount," claiming it was the site of two prominent Jewish temples in ancient times.
International law views the West Bank and East Jerusalem as "occupied territories," considering all Jewish settlement building on the land to be illegal.
. Tags: #
Middle-East
#
Palestine
#