Third Freedom Flotilla set to sail towards Gaza
2015-06-26 06:07:55 | Al Muslim News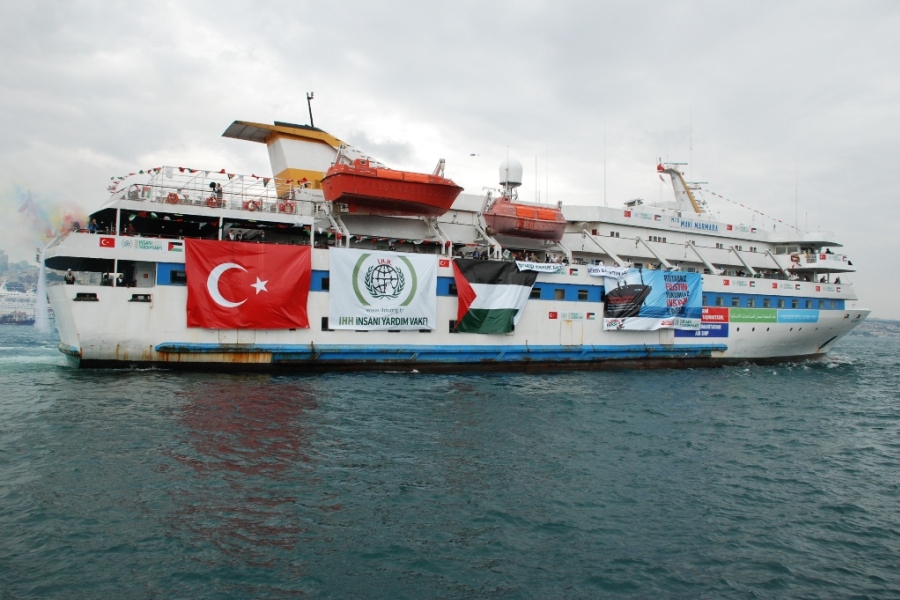 The aid mission aims to highlight the violation of the rights of 1.8 million Palestinians living in the world`s largest open-air prison `Gaza`.
The third Gaza Freedom Flotilla is set to sail towards Gaza, according to a statement from the Freedom Flotilla Coalition media center.
The flotilla reportedly left Athens on Monday with Arab member of the Israeli parliament, Basel Ghattas, and Tunisia's former president Mohamed al-Moncef al-Marzouki onboard, Anadolu Agency reported.
The Gaza Freedom Flotilla, organized by the Free Gaza Movement and the Turkish Foundation for Human Rights and Freedoms and Humanitarian Relief (İHH), was carrying humanitarian aid and construction materials, with the intention of breaking the Israeli blockade of the Gaza Strip. In normal circumstances, aid is brought to Israel to be inspected and then transferred to Gaza.
"More than three boats, with more than 50 crew [members] and passengers from about 20 countries are prepared to reach the port of Gaza and call on the international community to open it," said the statement released late Thursday.
The coalition, which says it organized the mission to attract the world's attention to the Israeli blockade of Gaza, stated it was about to sail "to highlight the violation of the rights of 1.8 million Palestinians living in the world's largest open-air prison."
The flotilla was invited by Palestinians through numerous organizations, which work to help the wounded, homeless, unemployed and displaced due to Israeli military operations, according to the statement.
The coalition stated its aim was not to act against Israel but against its occupation and added that it would not be needed had governments around the world reacted to the Israeli government's acts against Palestinians.
The Third Freedom Flotilla has made several stops on its way to Gaza, in Greece, Spain and France.
Boats from the Canadian Boat to Gaza, Greece Ship to Gaza, Freedom Flotilla Italia, Norway Ship to Gaza, South Africa Palestine Solidarity Alliance, Spain Rumbo a Gaza and Turkey's Humanitarian Relief Foundation (IHH) are part of the third attempt.
The first Gaza Freedom Flotilla expedition in May 2010 ended in tragedy after Israeli commandos killed eight Turkish nationals and an American of Turkish origin in a raid on the flotilla ship, Mavi Marmara. Another person of Turkish nationality died in a hospital in 2014 after being in coma for almost four years.
The second Gaza Freedom Flotilla took place in 2012. It too was turned back by Israel.
Israel has maintained a tight blockade of the Gaza since 2007.
. Tags: #
Middle-East
#
Turkey
#
Palestine
#