Switzerland set to ban Niqab
2015-11-26 05:38:43 | Muslim Women to be fined up to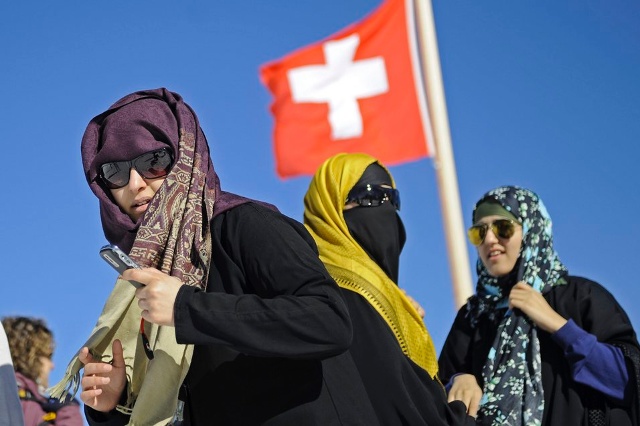 Muslim Women to be fined up to $9,800 for wearing Niqab in Swiss region
Muslim Women wearing face veil or niqab in the Switzerland's Italian-speaking county will be faced with a fine of up to $9,790, after its parliament made it illegal to wear the veils in public. Almost two-thirds of the region's voters supported the proposed law to ban Muslim women for wearing veil
The Ticino regional parliment set to become the first region in Switzerland to introduce such a ban on Islamic veil.
Following the green signal from the regional parliament, the bill, which was backed by 65% of the electorate in a 2013 referendum, could take effect in April, a parliamentary representative said.
The local government still needs to give its approval before it can be signed into law.
The bill was inspired by a controversial French law introduced in 2011 barring women from wearing a face veil (Niqab), in the street, public gardens, shops and government buildings.
France was the first European nation to ban the Niqab for Muslim women and all other forms of face covering. The French Law was upheld in the European Court of Human Rights in July 2014.
The Ticino government had urged parliament to apply the law to anyone covering their face in public, including masked hooligans or demonstrators, but the parliamentarians voted for a law that applies only to the Muslim women wearing veil.
Once the law comes into effect, anyone wearing a full-faced veil in the region risks fines of between 100 and 10,000 Swiss francs ($98-$9,830, 92-9,230 euros).
The bill makes no exceptions for tourists, and Ticino is planning to display warning signs at airports and border crossings to inform visitors of the ban.
Around 40,000 tourists from the Middle East visited Ticino last year.
There are around 400,000 Muslims in Switzerland, totaling about five percent of the country's population.
. Tags: #
Islamophobia
#
Hijab
#
Niqab
#