Stop Islamization: Polish football fans boycott game over donations to Syrian refugees
2015-09-20 11:49:07 | Al Muslim News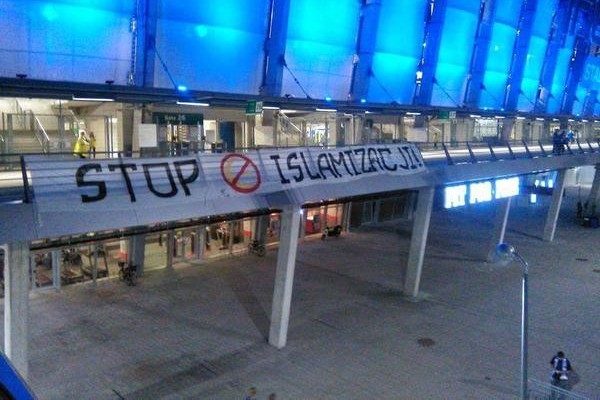 Lech Poznan fans display their hostility towards Syrian refugees in Poland
A large number of soccer fans for the Polish soccer team Lech Poznan boycotted their team's Europa League home match Thursday after it was announced that €1 of each ticket would go to help the Syrian refugee crisis gripping Europe.
As a result of the boycott Polish champion's INEA Stadium was practically empty.
According to the Guardian, the boycott was organized by an ultra supporters group for the team. Lech Poznan, which last season averaged 20,000 fans a game, had only 3,000 show up for the game.
Before the game started fans have put a banner on stadium entrance that said, "Stop Islamization". Thus showing that refugees are not welcome in Poland.
During last home match fans of Lech Poznan displayed banners against refugees and chanted anti-refugees songs. At one banner you could read, "This is obvious and simple for us. We do not want refugees in Poland".
UEFA, the European Football Association, had organized the 80 teams participating in this year's Champions League and Europa League to contribute 1 euro from their first home game to help the refugee crisis.
Not all clubs, and its fans, were against the donation to Europe's refugees. Borussia Dortmund invited 220 refugees to attend their recent Europa League qualifier match.
. Tags: #
Islamophobia
#