Spanish Muslim students have no access to Islamic education
2015-04-11 08:17:22 | Al Muslim News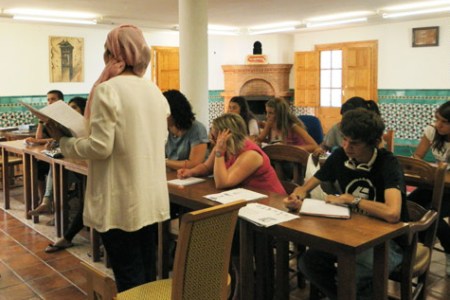 A report released by the Union of Islamic communities (UCIDE) in Spain, concluded that Ninety% of Muslim students registered in Spanish schools have no access to Islamic religion classes.
According the demographics study of the Muslim population in Spain, conducted by to the UCIDE, only in Andalusia, Aragon, Basque Country, Canary Islands and the autonomous cities of Ceuta and Melilla are offer basic Islamic education in elementary schools, Anadolu Agency reported.
In Basque Count, around 6,065 Muslim students, of which 5032 are foreigners and 1033 students are Spanish. There are only two Islamic education teachers in total, at the primary level, the report pointed out.
Meanwhile nine out of 10 Islamic education teachers are unemployed. In total, there are 275,324 Muslims students in country (112, 214 Spaniards and 163,110 immigrants) and only the above mentioned communities and two autonomous cities have Islamic education teachers. The UCIDE report suggests that, depending on the density of Muslim students in primary and secondary schools, communities of Balearic Islands, Catalonia, La Rioja, Madrid, Murcia, Valencia and Castilla-La Mancha should also offer Islamic religion classes.
Muslims make up 3.8 percent of the country' total population, 40% are Spanish and the rest 60% are immigrants, according to UCIDE.
Majority of the Muslims in Spain are mostly Morocco descent although there is a significant presence of Pakistanis and Senegalese Muslims in major cities like Barcelona, Valencia and Logrono.
. Tags: #