South Africa remains at forefront of global Israel boycott
2015-09-24 12:32:46 | Al Muslim News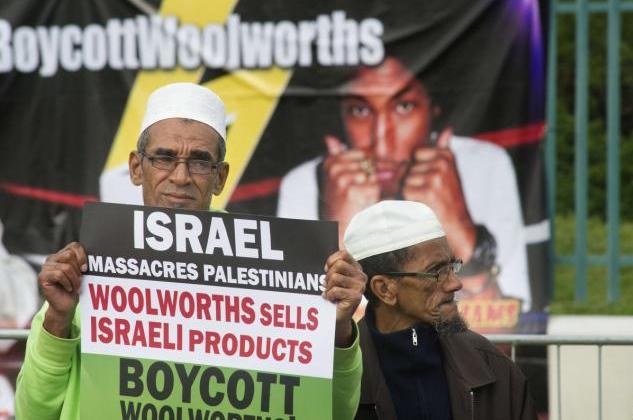 Many South Africans equate Palestinians` ongoing plight with their own earlier struggle for national liberation
Several hundreds of pro-Palestinian South Africans staged a protest against Grammy-winning American musician Pharrell Williams outside a venue where he was holding a concert in Cape Town.
Cape Town protests against Pharrell Williams – due to the American pop singer's perceived links with Israel – have shown that South Africa remains at the forefront of efforts to isolate the self-proclaimed Jewish state for its heavy-handed policies against the Palestinians.
On Concert night, hundreds of activists protested against Williams' decision to perform at a concert sponsored by local retail giant Woolworths, which is accused of having close trade links with Israel.
"We managed to send a clear message to both Woolworths and Williams. They should choose the right side of history," protest organizer Muhammed Desai – who is also a leader of the South African chapter of the Boycott, Divestment and Sanctions (BDS) campaign – told Anadolu Agency.
He said the singer had also breached an international cultural boycott by scheduling a performance that will soon be held in Israel.
BDS campaigners accuse Woolworths of sourcing many of its products from Israel, which, they point out, continues to illegally expropriate Palestinian land for the construction of Jewish-only settlements.
The retail giant has on several occasions denied that it sources its produce from Israeli-occupied Palestinian territories, saying only 1 percent of its produce comes from Israel itself.
Williams has also been targeted by the BDS campaign because he is currently serving as Woolworths' style director and education fundraiser.
"Woolworths is a company that maintains unjustifiable trade relations with apartheid Israel," said Desai. "Therefore, it is the current target of the biggest consumer boycott campaign seen in South Africa since the end of the apartheid era."
Over the course of last year, BDS campaigners in South Africa have held numerous protests to demand that Woolworths remove Israeli goods from its shelves in line with an international economic boycott of Israel.
BDS is a global movement devoted to ratcheting up economic and political pressure on Israel with the ultimate aim of ending the ongoing occupation of Palestinian land.
The campaign enjoys the support of many South Africans, who associate the Palestinian struggle with what they went through during the apartheid era in their own country.
"South Africans support BDS due to the role that International Solidarity played in South Africa's struggle for freedom," BDS spokesperson Kwara Kekana told Anadolu Agency.
She recalled how, in the 1980s, the international community had organized mass protests and global boycotts against South Africa's apartheid system, accelerating the country's drive towards democracy.
She also noted how the Palestinian Liberation Organization (PLO) had enjoyed close ties with the African National Congress (ANC), the South African liberation movement that now governs the country.
"The ANC received assistance from the PLO while many of its members were still in exile," she said.
The BDS campaign in the past has successfully appealed to many local and international musicians to cancel planned concerts in Israel.
"Our campaign calls for 'conscious consumers'," said Kekana. "We want people to know where the products they're buying are coming from."
The campaign, she went on to note, now holds an annual "International Israel Apartheid Week" devoted to raising awareness about Israel's decades-long occupation of Palestine and ongoing Israeli crimes against the Palestinian people.
South Africa's ANC-led government, for its part, has on several occasions voiced its support for the Palestinian national struggle.
Last year, the party denounced an Israeli military onslaught against the Gaza Strip in which more than 2,150 Palestinians were killed, urging South Africans to protest against the assault and show solidarity with the besieged people of Gaza.
"The ANC condemns – in the strongest terms – the barbaric attacks on the defenseless Palestinian people of Gaza," ANC Deputy Secretary-General Jessie Duarte said in a statement issued during the onslaught, which lasted for 51 days in July and August of last year.
During Monday's protest against Williams, Muhammad Khalid Sayed, a member of the ANC's youth league, called on activists to maintain their boycott, stressing that international sanctions had helped isolate – and eventually bring down – South Africa's former apartheid regime.
"The ANC youth league supports calls for the isolation of apartheid Israel," he said, going on to note the similarities between the South African and Palestinian national struggles.
Faiez Jacobs, ANC secretary for Western Cape, for his part, reiterated to Anadolu Agency on Tuesday the party's support for the BDS campaign, criticizing Woolworths for continuing to source products from a country that unabashedly violates Palestinian rights.
"Former President Nelson Mandela once said, 'We know too well that our freedom is incomplete without the freedom of the Palestinians'," Jacobs noted.
He added: "That's why South Africans must maintain their support for the Palestinian cause."
. Tags: #
Palestine
#