Sikh temple holds iftar for Muslims
2015-06-25 06:49:14 | Al Muslim News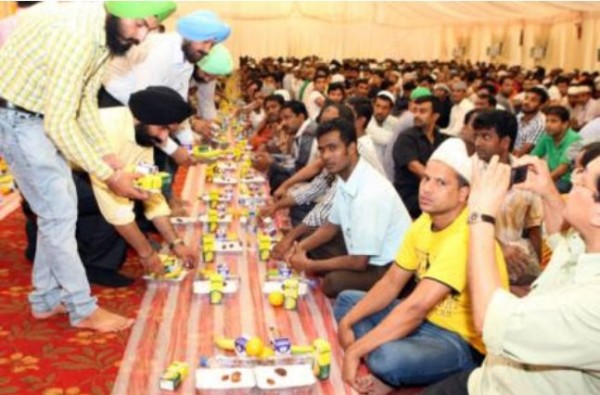 As Muslims across the world observe the holy month of Ramadan, the UAE witnesses a most unique sight.
A Sikh Temple (Gurudwara) held an Iftar dinner for Muslims fasting in the holy month of Ramadan in United Arab Emirates (UAE).
The gurudwara in Jebel Ali organised the iftar for the second consecutive year. The guests of honour were people from Al Manar - a Quran study Centre.
Last year, the Al Manar Centre started inviting guests from different religions for Iftar and the gurudwara reciprocated, the Khaleej Times repored.
Ten guests, including an Islamic speaker Ahmad Hamid, and representative of Al Manar Centre Abdul Hadi were present at the Iftar. They did not stay for long, however, they opened the fast at the gurudwara.
Hamid said they completed the "crux of the mission," which was "to share the principles of why they fast."
"This is the best time to share the principles of religion with everyone in this part of the world," Hamid said.
Surinder Singh Kandhari, chairman of the Guru Nanak Darbar also invited about 20 other Muslim friends.
"He speaks about the importance of submitting yourself to God," Kandhari said about Hamid's speech on the occasion.
"We recited the Quran, and we made a speech on the importance of fasting, the feeling was wonderful," Abdul Hadi, representative of Al Manar Centre said on the evening at the Gurudwara.
. Tags: #