Shia mosque in Kabul under attack by gunmen, says Afghan official
2017-08-25 06:12:26 | #nomi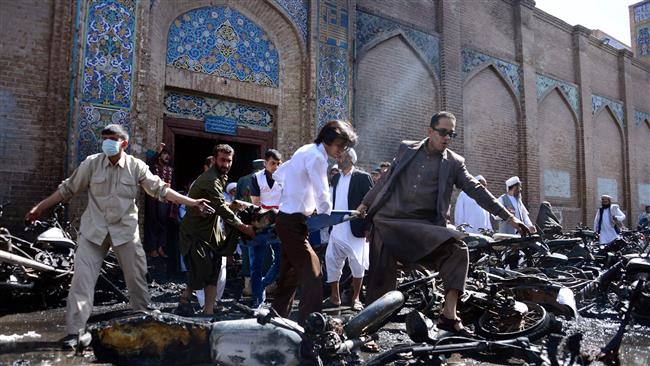 Shia mosque in Kabul under attack by gunmen,says Afghan official
A Shia mosque in Kabul is under attack as gunmen stormed the mosque while worshippers were at prayers, according to an Afghan official on Friday.
Kabul police spokesman Abdul Basir Mujahid told AFP that a suicide bomber "detonated himself inside the mosque", adding that there were casualties but he could not confirm how many.
Another police official, Mohammed Jamil, the gunmen were still inside the mosque, which was crowded with worshippers who had come for Friday prayers.
According to Jamil, Afghan security forces have surrounded the mosque but are not advancing or pushing into it to prevent more casualties.
The interior ministry confirmed a "terrorist attack" has taken place.
Taliban kill 4 policemen in Kandahar
Taliban attacked a security outpost in southern Kandahar province, the insurgents' former heartland, killing four troops on Friday.
Provincial police chief's spokesman, Zia Durrani, said that the security forces repulsed the Taliban attack with the help of air support from the Afghan air force.
Durrani said that seven policemen were wounded in the Friday morning attack while the Taliban also sustained heavy casualties. There has been no immediate comment from the Taliban.
Separately, provincial deputy police chief Nisar Ahmad Abdul Rahimzai said that Afghan security forces recaptured a district in eastern Paktia province from the insurgents.
The summer fighting season in Afghanistan has been brutal so far this year, with relentless Taliban attacks around the country as the insurgents battle to expand their footprint.
This is a breaking story that is being developed as more information becomes available. Initial reports in the media are sometimes inaccurate. We will strive to ensure timeliness and accuracy by relying on credible sources such as concerned, qualified authorities and our staff reporters.
. Tags: #
Afghanistan
#