Separatists raise Pakistani flags at rally in Indian-occupied Kashmir
2015-04-16 10:45:01 | Al Muslim News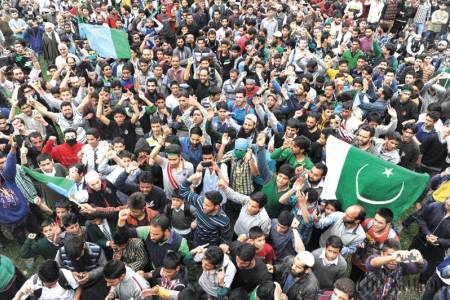 Kashmiri Separatists waved Pakistani flags at a political gathering in Srinagar, the summer capital of Indian-occupied Kashmir.
After a gap of five years, Jammu and Kashmir Government on Wednesday allowed Kashmir separatist leader Syed Ali Shah Geelani to hold a public rally in the outskirts of Srinagar city where his supporters including Masarat Alam, released from jail in last month, raised pro-Pakistan slogans and others waved Pakistani flags.
Musarrat Alam waved a Pakistani flag to greet Syed Ali Shah Geelani at the rally, reported the Indian media. Thousands of Kashmiris attended the rally in the restive capital of Indian-occupied Kashmir, which was held as a show of strength to welcome Geelani on his return from New Delhi.
Musarrat Alam, 47, a likely successor to Hurriyat leader Syed Ali Shah Geelani, he was released from prison after four years on March 7 this year. Now, questions are being raised on his release and there are widespread reactions on social media platforms, demanding his rearrest.
India reacted furiously following the show of support for Pakistan at the Srinagar rally by Kashmiri Muslims. National Spokesperson Indian ruling party BJP, Narasimha Rao said the act was completely unacceptable. .
Earlier, Hurriyat leader Asia Andrabi had also waved Pakistani flag at a public gathering in Indian-occupied Kashmir to mark solidarity with Pakistan. She singing the Pakistan's national anthem and delivering an anti-India speech on the Pakistan Day on 23 March in Srinagar. Asiya is the chief of the Dukhtaran-e-Millat Women's Wing which is associated with the Hurriyat.
. Tags: #
Kashmir-Muslims
#
Muslim-minorities
#
Indian-Muslims
#
India
#