Security firm G4S boycott spreads worldwide over its role in Israeli prisons
2015-05-23 10:21:04 | Al Muslim News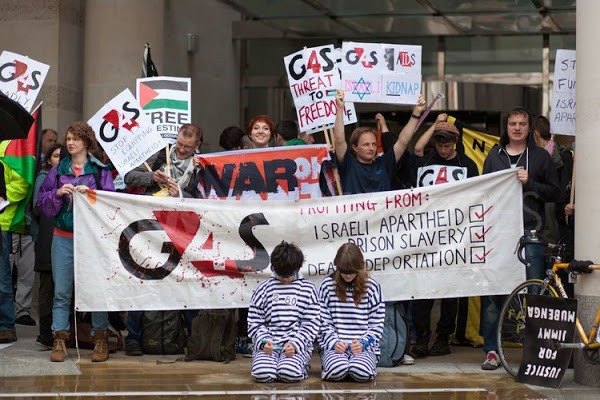 Participants are supporting the Stop G4S network`s protest at G4S` Annual General Meeting over its role in serious human rights crimes.
A University in Finland has canceled the security agreement with private firm G4S over its role in Israel's prison system, where thousands of Palestinian women, children and men are routinely detained and tortured.
The University of Helsinki changes its provider of security services. The previous provider was British firm G4S, widely criticized for its alleged human rights violations in Palestine/Israel and elsewhere. This can be considered a victory for the campaign that had demanded that G4S be kicked out of the University of Helsinki, PNN reported.
Palestinian organizations had launched a boycott and divestment campaign against the G4S firm in 2012 because the British company provides security equipment and services to Israeli Military and prisons. Israel is notorious for keeping Palestinians in prison, in detention without trial and using systematic torture, including of children and women.
University of Helsinki decision comes after a campaign that was backed by unions representing its teachers and students.
In April 2014, there was a petition signed by people from across a range of faculties and positions at the University of Helsinki, asking the University of Helsinki to discontinue using the services of G4S.
As a response, the rector Jukka Kola commented in social media that the university will look at the issue.
In February 2015 the Student Union of the University of Helsinki expressed its support for the petition.
As of June 2015, there will be a new company, called Turvatiimi, that takes care of the security services of university.
This decision means that the name of the University of Helsinki will join the list of universities such as King's College London, University of Southampton, University of Oslo and University of Bergen that have decided to take distance from G4S. While it is difficult to track all the reasons behind all the cases, in all universities there was a campaign against G4S. The company has been accused of complicity in serious human rights crimes, for example against children in Israeli prisons.
The campaign was targeted around one company G4S, on which there was enough evidence of its involvement in human rights violations so that a relatively wide constituency of concerned teachers, staff and students could express its concern.
US state North Carolina's Durham County also recently voted to drop G4S. In Durham County, G4S provided security services at libraries and police, and civic buildings. The contract was worth $1million dollars.
Jade Brooks, a member of Jewish Voice for Peace - North Carolina and part of a broad coalition of local groups that have long campaigned against G4S, told The Electronic Intifada that it was a welcomed "second win."
In November 2014, after a year-long campaign by the Durham County saw the vote being cancelled with the board of commissioners last week choosing a local company, "that has agreed to pay its workers a living wage and consider rehiring the G4S workers," Brooks added.
. Tags: #
Anti-Muslim
#
Israel
#
Palestine
#