Saudia Arabia: 4 people killed in terrorist attack on Mosque
2015-05-29 08:02:58 | Al Muslim News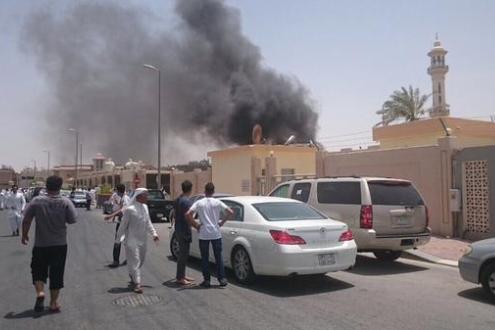 A car blast outside a mosque in Dammam during Friday prayers killed four people
Saudi Arabia's security forces foiled on Friday a suicide car bomb blast at a mosque in the eastern city of Dammam, the security spokesman at the Ministry of Interior said.
4 people were died when a car exploded near in Al-Anoud Mosque during Friday prayers, the Saudi Press Agency reported. Security forces became suspicious of a car parked near the mosque which exploded as they walked towards it, killing four people and setting fire on cars in the surrounding area, the spokesman said. One of those killed is suspected of being the driver, he added, IINA reported.
Residents circulated pictures of a badly disfigured body of a man believed to be the suicide bomber as well as pictures of large black clouds of smoke billowing over a parking lot outside the mosque, According to Al Arabiya News.
It is the second bomb attack on a Saudi mosque in a week. Last Friday, 21 worshippers were killed and more than 80 injured when a terrorist blew himself up at Ali bin Abi Talib Mosque during Friday prayers in Al-Qudaih town in the eastern Qatif region.
. Tags: #
Terrorism
#
Middle-East
#
Saudi
#