Russian President Putin opens Moscow`s largest mosque
2015-09-24 11:35:06 | Al Muslim News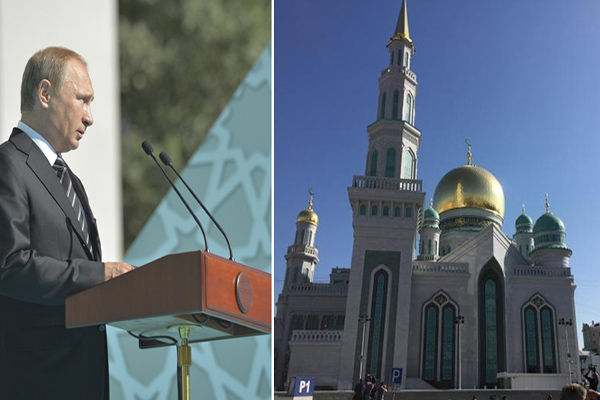 President Putin delivers a speech during a ceremony to open the Moscow Grand Mosque, in time for the Eid ul Adha
One of the biggest mosques in Russia finally opened in Moscow on Wednesday, in time for the Eid ul Adha, after 4 years of construction work, with President Vladimir Putin and foreign dignitaries attended the ceremony.
Islam plays an important role in Russia, President Vladimir Putin said at the reopening of Moscow Central Mosque alongside Turkish President Recep Tayyip Erdogan and Palestinian President Mahmoud Abbas, Putin said: "Muslim opinion leaders always contribute to the development of peace and common sense against extremism in Russia."
"An excellent masterpiece comes out after the restoration of the historic Moscow Central Mosque in a beautiful location in Moscow," Turkish President Erdogan said.
Putin thanked Erdogan for attending the ceremony of the mosque and for the contributions for the restoration.
Palestinian President Mahmoud Abbas was also present at the mosque.
The mosque - also known as Moscow Cathedral Mosque and Moscow Jum'ah Mosque - was reopened on the eve of Eid al-Adha following its demolition four years ago.
A prayer space that can accommodate up to 10,000 worshipers
The Turkish Diyanet Foundation, an agency of Turkey's religious affairs directorate, helped with the mosque's interior design. The mosque commissioned by the Moscow Central Mosque Religious Administration, with the interior of the mosque built in an classical Ottoman style.
The total area of the six-storey mosque has grown 20-fold, from 980 square meters to 19,000 square meters. The new Moscow Mosque can accommodate up to 10,000 worshipers. The building has six elevators and equipment for people with disabilities.
The new mosque is crowned by the main dome, two large minarets, a small minaret and four towers. The main dome is 46 meters tall and has a diameter of 27 meters. The minor minaret was placed above the historical part of the building. The minor minaret's top is 5.7 meters tall.
The construction cost of the Moscow Mosque stood at approximately $170 million.
. Tags: #
Russia
#