Russian Muslim Muftis condemn ISIS as 'enemies of Islam'
2015-04-02 11:56:27 | Al Muslim News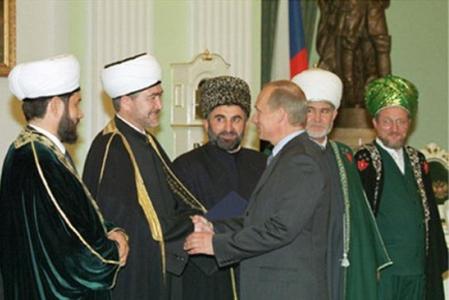 A group of major Russian scholars has issued a fatwa against the so-called Islamic State (ISIS or ISIL) reviling them as 'enemies of Islam' and calling for the punishment of all its members as criminals.
The Spiritual Directorate of Muslims of Russia published the statement of the fatwa on its website, as RT media reported.
"The members of the Ulama [Islamic scholars] council, on the basis of the Quran and Sunna and other legal sources, have shown and proved that all actions of the organization that calls itself "Islamic State" are contradicting Islam – starting from the creation of the group and calls for resettlement and finishing with their cruelty and public executions," the document reads.
"From the point of view of the Muslim canon the members of such criminal groups deserve either capital punishment or full lifelong isolation from the society," the Russian Muslim leaders stated.
"The followers of ISIS are mistakenly interpreting Islam as the religion of brutality and cruelty, of violence, torture and killings of all discontent," the Russian Muslims stated.
In reality, the basic principles of Islam forbid to kill civilians, prisoners and envoys – and journalists and workers of humanitarian missions can be described as the latter, they added.
The Russian Muslim Muftis has also denounced the establishment of a new "caliphate" by ISIS last June, considering it a "fake" one that aims to dupe Muslim youth.
Most importantly, the creation of a caliphate is only possible by approval of all Muslim communities and otherwise is considered a mutiny. "A single-sided declaration of caliphate would cause numerous competing caliphates to appear and this would cause strife and disagreement between Muslims," the fatwa reads.
Islam in Russia is the second-largest religion representing roughly 9 percent of its 145 million predominantly Christian residents. The Russian Federation is home to some 14 million Muslims in the north of the Caucasus and Dagestan, Ingushetia and Chechnya..
Tags: #