RSS agenda similar to Hitler: Communist Party Leader says
2015-10-28 10:05:00 | Al Muslim News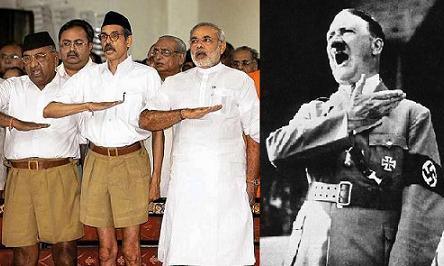 Hindu extremist organization RSS involves in violence against minorities especially Muslim community in India
The Rashtriya Swayamsevak Sangh (RSS) agenda is similar to what Hitler pursued, a Communist Party of India-Marxist (CPI-M) leader said.
Addressing reporters, politburo member Pinarayi Vijayan said the RSS and the Bharatiya Janata Party (BJP) were trying their best to divide the society on communal lines in the name of Hindutva, Muslim mirror reported.
"The RSS is trying to do what Hitler did," he said, referring to the attacks on Muslims and Dalits.
He quoted RSS leader MS Golwalkar as praising Hitler's ideology.
"We wish to know which Hindu scriptures say that killings should be done," said Mr Vijayan, a senior leader of the Communist Party of India-Marxist in Kerala.
He said the people of Kerala had seen through the agenda of the Rashtriya Swayasewak Sangh in trying to forge an alliance with the SNDP, the social organisation of the Hindu Ezhavas.
"This has come a cropper as the SNDP is not in the hands of a few. We see serious differences of opinion breaking out in the Ezhava community over this," said Mr Vijayan.
According to released documents by WikiLeaks, Congress(I) party's general secretary Rahul Gandhi remarked to US Ambassador Timothy Roemer, at a luncheon hosted by Prime Minister of India at his residence in July 2009, that the RSS was a "bigger threat" to India than the Lashkar-e-Tayiba.
. Tags: #