Rohingya and homeless locals observe Ramadan in Indonesian shelters
2015-06-21 06:52:50 | Al Muslim News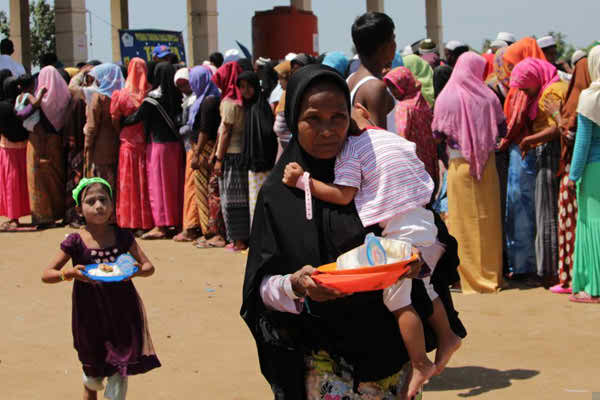 After harrowing journeys, Rohingya hope for peaceful Ramadan in Indonesia
As Muslims across Indonesia celebrate the holy month of Ramadan, thousands of displaced people – including Rohingya who washed up on the country's shores and locals fleeing an erupting volcano – have been facing hardship in their fasting and worship.
More than 10,700 people – around half of them Muslims -- have been evacuated from areas near Mount Sinabung, North Sumatra province, over the past weeks after authorities raised its alert status to the highest level.
Hariati Sitepu, a mother of two whose family has taken refuge at the Jambur shelter in Tongkoh village, told that they have been fleeing their home every Ramadan and Eid al-Fitr – the holiday marking the month's end -- over the last years, Anadolu Agency reported.
She said that the women at the shelter gather in a public kitchen each day to prepare a "simple meal" for the pre-dawn "suhoor" and the "iftar" with which the 250 Muslims at the site break the daily fast.
Once the meals are served, the displaced inhabitants dine together in a 5-square meter kitchen where they tell tales of their children and the lives and hometowns they were forced to leave behind.
Haritai, 40, expressed concerns about the difficulty of conducting prayers as the shelter due to the lack of proper facilities such as a mosque and clean water for "wudu" – the ritual ablution before prayer.
"We hope the government can prepare a space for us to use to pray," she said. "Hundreds of the displaced here are Muslims. We all pray together that this disaster will end immediately."
The National Disaster Mitigation Agency has recently disbursed Rp 1.4 billion (more than $105,000) to help ensure the availability of food supplies at local evacuation centers over the next 30 days, according to the secretary of its Karo regency counterpart.
In other shelters in northern Sumatra island, thousands of migrants – including more than 1,000 Rohingya – have also been striving to observe Ramadan. Despite the hardship of being far from their homes with limited resources, some have expressed gratitude for their condition.
Among them, Syamsul Alam said Rohingya were fortunate to be sheltered temporarily in a majority Muslim country where they could pray freely without any anxiety.
"They are glad to be in Aceh [province], they are happy to fast here," the VivaNews website quoted him as saying. "Thailand and Malaysia rejected [us], Alhamdulillah Indonesia [accepted us]."
Since 2012, Rohingya -- who the United Nations consider to be the world's most persecuted ethnic minority -- have been fleeing Myanmar in boats, in fear of violence that some human rights groups consider to be state-sponsored.
In early May, a crackdown by the Thai junta on trafficking networks and routes sparked an international crisis as thousands of Rohingya and Bangladeshi migrants became stranded in boats.
Since a tri-nation conference on the Southeast Asian boat people crisis May 20, Indonesia has said it will take the Rohingya in for one year, ascertain which are asylum seekers and which are economic migrants, and then the international community will find homes for them.
Alam added that the local government and Acehnese supported them with food for suhoor and iftar.
The mayor of Banda Aceh city told Anadolu Agency that the local government had organized an iftar event at the Blang Adoe shelter this week during which migrants voiced some requests.
She also told Anadolu Agency that some of the migrants had told her of their experiences during Ramadan when they still lived in Myanmar.
"To pray tarawih [a special night-time prayer during Ramadan], they had to go to India. They had to go a long distance and needed to find a car to reach there," she said. "But they didn't give up and kept on praying."
. Tags: #
Rohingya-Muslims
#
Indonesia
#