Qatar crisis
2017-06-15 11:39:10 | Editorial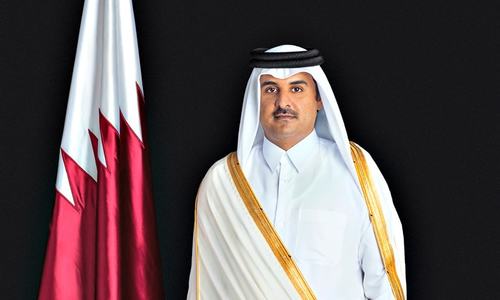 Nearly a week after Saudi Arabia and allied countries in the Middle East physically and diplomatically isolated Qatar, another antagonistic step was taken when the countries published a list of a dozen organisations and nearly 60 individuals they accuse of links to militancy. On the list – which places sanctions on all those named – are a number of Qatari charities, members of the royal family, politicians and businessmen. If anything, the Saudi stance on Qatar has only hardened since it started the blockage.
The kingdom has sealed off its border with Qatar and along with Bahrain, the UAE and Egypt, has imposed an economic blockage and blacked out the Qatari media. There are also reports that Qatari citizens are facing difficulties visiting Makkah and Medina. The only food that is coming into Qatar is by planes from Iran. For the moment, there appears little hope for compromise, although Kuwait authorities have said that Qatar is ready to talk with other Arab countries to address their concerns. Both Kuwait and Turkey have offered to mediate and the Turkish parliament approved a measure to increase military cooperation with Qatar. Turkey may also soon send troops to Qatar in a move it calls pro-Qatari rather than anti-Saudi. The country, which has close ties with all the countries involved, is perhaps in the best position to broker a settlement. It has credibility with both the Qataris and Saudis and could also bring Iran into any possible talks. It is highly desirable that the Middle East sorts its own problems out before outside powers involve themselves even further.
Of those outside powers, the role of the US has been perplexing. The blockade came just days after President Trump gave a speech in Riyadh pledging himself to the Saudi side and against Iran. His tweets after the Saudi action in Qatar seemed to indicate he too saw the country as a supporter of terrorism. But Qatar is a longstanding military ally of the US and even hosts an American military base. Other US officials have been more pro-Qatar, leading to confusion. This could be intentional. Part of the superpower strategy in the Middle East after decolonisation has been to keep it divided. In that it has been successful, which is why organisations like the OIC and GCC, which should have been at the forefront of this diplomatic crisis, have been silent. Other Muslim-majority countries like Pakistan have ties with all the countries involved and so are reluctant to get involved. We have offered our mediation services should they want it but are otherwise trying to keep out of it.
Pakistan's parliament expressed its concern and the Foreign Office said it believes in unity among Muslim countries but other than that we have not involved ourselves in the dispute. Rumours that Pakistan might be sending troops to Qatar have also been quickly shot down by the Foreign Office. Ultimately, it is the responsibility of the Middle Eastern countries themselves to sort out their issues rather than falling prey to their own differences and the divide-and-conquer strategy of outside powers.
https://www.thenews.com.pk/print/210015-Qatar-crisis
. Tags: #