Prime Minister Modi praises India`s Islamic heritage
2015-07-08 18:59:19 | Al Muslim News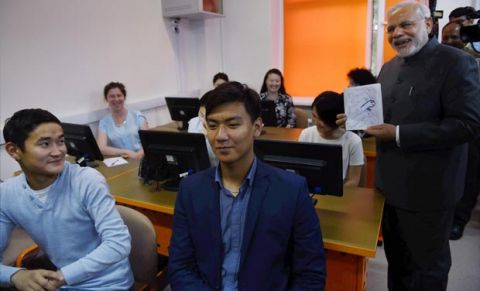 PM Modi showing a student`s notebook during the inauguration of India-Kazakhstan Centre for Excellence in Information and Communication Technology
Indian Prime Minister Narendra Modi made a significant statement on Tuesday praising India's Islamic heritage, a tone in direct contrast with many of his MPs and the Sangh Parivar.
The PM used the example to highlight the fight against terror, pointing out how true Islam has "always rejected the forces of extremism", IINA reported.
On his first visit to Central Asian countries, Modi, who flew to Kazakhstan's capital from Uzbekistan earlier in the day, asserted that both India and Central Asia cannot achieve their full potential without each other and nor will the region be more stable without the cooperation between the two.
Speaking at the Nazarbayev University in Kazakhstan, the PM said, "The confluence of Indian and Islamic civilization took place in Central Asia. We enriched each other in spiritual thought, but also in medicine, science, mathematics and astronomy."
"The Islamic heritage of both India and Central Asia is defined by the highest ideals of Islam - knowledge, piety, compassion and welfare. This is a heritage founded on the principle of love and devotion.
"And, it has always rejected the forces of extremism. Today, this is an important source of strength that brings India and Central Asia together", he added.
The comments drew praise from some of PM Modi's critics, like commentator Sudheendra Kulkarni, who tweeted, "I salute PM Modi for saying: Islamic heritage of India & Central Asia is defined by highest ideals of Islam Knowledge, Piety, and Compassion. (Sic)"
The PM's speech is being seeing by many analysts as a possible sign of a more inclusive approach.
. Tags: #
India
#