Pop Star Shakira: World should not ignore images of Aylan Kurdi
2015-09-23 01:02:25 | Al Muslim News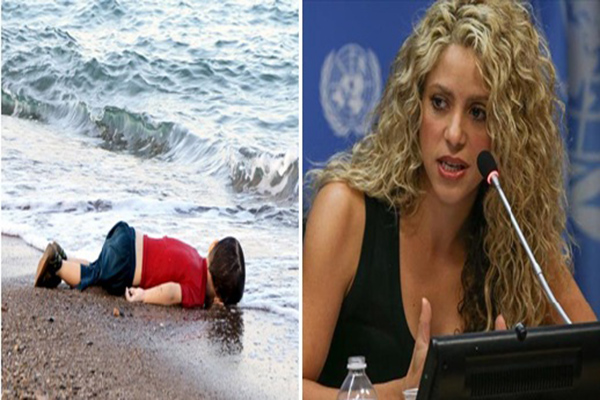 Pop singer says pictures of drowned Syrian baby `should humanize the plight of refugees`
Colombian pop star Shakira said Tuesday that the world should not ignore, nor forget the extraordinary pictures of a Syrian child whose body washed up on a Turkish beach earlier this month.
Speaking to reporters at a press conference at the UN headquarters, Shakira termed the current migrant and refugee emergency as "one of the greatest humanitarian crises of our time".
"The image of that little boy washed up on a shore is a tragic one and one that we shouldn't ignore and we shouldn't forget. It should humanize the plight of refugees", she said, referring to 2-year-old Syrian Aylan Kurdi.
Pictures of his body went viral on social media, causing international outrage and frustration at the international community's failure to help desperate families in Syria.
"We need to come together and we need to demand a just exit to this humanitarian crisis", said Shakira. "Because the refugees deserve to have a home. I know there is a lot of racism underneath it all ... I only hope that sometime soon we can have a world where human needs and rights raise above flags and borders and numbers and selfishness and racism."
Asked what song she would sing for Syrian refugee children, the pop star, who is a goodwill ambassador for the UN children agency, said she would sing John Lenon's Imagine.
"I think of the lyrics of that John Lennon song, Imagine. Imagine all the people sharing the world. Why can't we share all the world? What is holding us back?" she said.
The world is facing its biggest refugee crisis in decades. Thousands of asylum seekers, particularly from Middle Eastern and African countries, are fleeing war and persecution.
The majority of these asylum seekers are Syrians who are trying to escape a civil war that has claimed more than 250,000 lives since 2011 and resulted in one of the largest refugee exoduses since the Second World War.
. Tags: #