PM Pakistan expresses sorrow over killing of Burhan Wani, other Kashmiris
2016-07-11 08:45:42 | Latest news #Al-Muslim Pakisan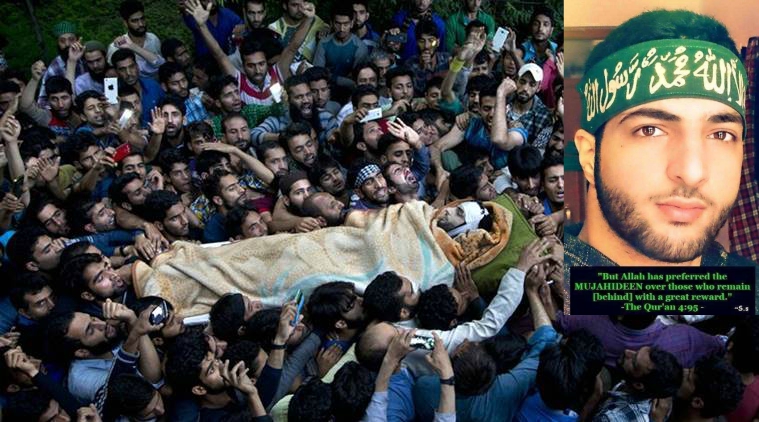 Burhan Funeral inset profile pic.
ISLAMABAD: Prime Minister Nawaz Sharif on Sunday expressed concern and deep sorrow over the killing of Kashmiri leader Burhan Wani and other innocent Kashmiris at the hands of India troops.
"Unarmed Kashmiris cannot be deterred from their rightful struggle for self-determination on gunpoint," he said in a statement.
Nawaz Sharif said massacre of innocent citizens by the Indian forces was condemnable and use of force against Kashmiris was regrettable.Indian forces shoot down 18 'unarmed' Kashmiris
He said right to self-determination was just demand of Kashmiris in the light of UN resolutions. Nawaz also expressed concerns over continued house arrest of Kashmiri leaders.
Burhan Wani
The Valley's head cleric and moderate separatist leader Mirwaiz Umar Farooq has said young and educated Kashmiri boys have joined freedom movement. They are part of the struggle at the indigenous level.
They are not the ones going anywhere outside for trainings nor is anyone anchoring them from behind. They are symbols of resistance.
In an interview from his house arrest after the martyrdom of Burhan Wani, Mirwaiz Umar Farooq said there is no political space and that is the reason these boys are picking up guns especially after 2010 when Indian occupation forces quelled the street protests through force and intimidation by killing innocent people.
Today, we see Burhan not as a hardcore militant but as a symbol against them, knowing that he cannot beat the military might of India.
The APHC leader said Burhan Wani's death will definitely inspire many people to go that way. There is no denying that people feel a sense of desperation.
People feel the government of India is just not ready to engage or even acknowledge the sentiments in Kashmir. The PDP-BJP coalition has added a huge dimension to the problem. People feel India is trying to culturally, religiously and politically undermine our authority.
He said they want to keep the resistance political. But the fact is that we are ourselves under house arrest. There is no scope for peaceful resistance.
Ref: ARY NEWS
. Tags: #
Kashmir-Muslims
#
Pakistan
#