Peace in Afghanistan important for stability in Pakistan,Pakistan tells Ghani
2016-10-06 10:10:32 | Al-Muslim News Asia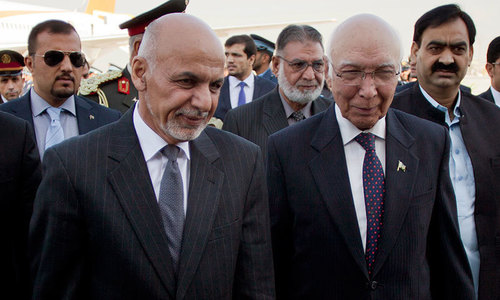 Peace in Afghanistan important for stability in Pakistan,Pakistan tells Ghani
ISLAMABAD: Adviser to the Prime Minister on Foreign Affairs Sartaj Aziz met with Afghan President Ashraf Ghani on the sidelines of the ongoing Brussels Conference on Afghanistan Thursday.
Aziz reiterated Pakistan's earnest desire for lasting peace in Afghanistan, which he said is important for stability and progress in Pakistan.
The Afghan president and adviser also discussed efforts for peace and reconciliation in Afghanistan and emphasised that lasting peace and stability could be achieved through a politically negotiated settlement.
Recalling Pakistan's efforts for facilitating peace talks between the Afghan government and Taliban, Sartaj Aziz said that Pakistan would continue to make efforts through the framework of the Quadrilateral Coordination Group (QCG).
President Ghani, however, expressed concern that Taliban's continued refusal to join the peace process was causing perpetuation of violence, killings and suffering in Afghanistan.
Aziz emphasised the need for continued engagement and support of the international community for sustainable economic development and growth in Afghanistan.
The Afghan president while thanking Aziz for Pakistan's pledge of a further economic assistance of $500 million to his country suggested that the two governments should work together to identify the projects in consultation with Afghan government according to its development priorities.
Ghani also appreciated the announcement of a second tranche of 3,000 scholarships for Afghan students in Pakistani universities and termed the project as an aid in institutional building in Afghanistan. Ref : Dawn News
. Tags: #
Afghanistan
#
Pakistan
#