Passports in Xinjiang's Gulja region to be handed into Police Stations: China
2015-05-19 07:47:58 | Al Muslim News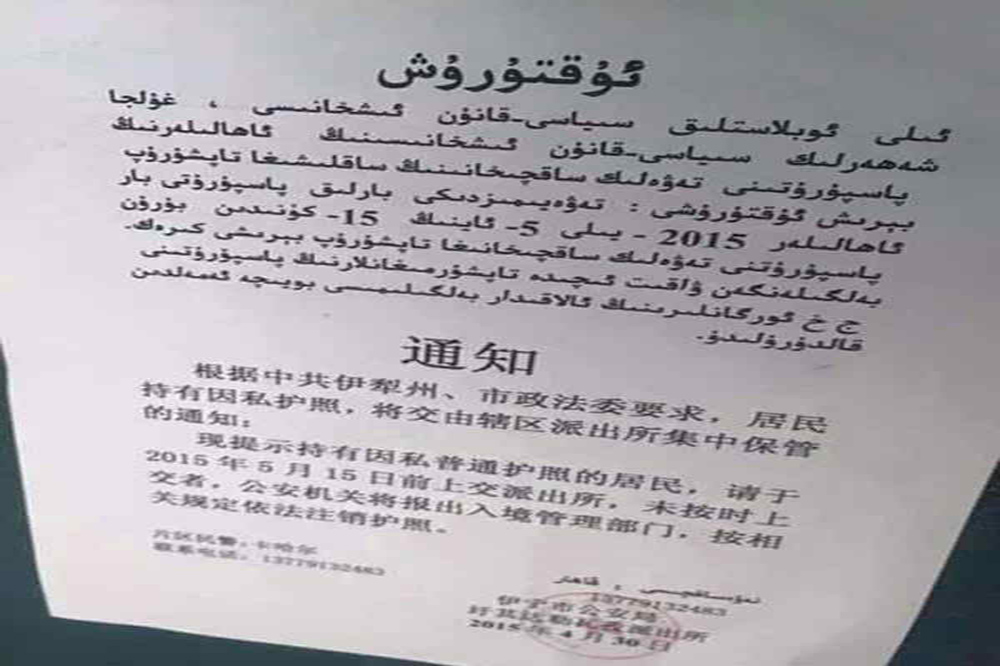 Chinese authorities issued a Notice of requirement for residents to turn in passports dated April 30, 2015.
Chinese Authorities in country's northwestern region of Xinjiang have stopped issuing new passports, and are recalling all existing passports to be held by police, amid a widening security clampdown by the ruling Chinese Communist Party.
"All residents of the district who have passports must hand in their passports before May 15," an April 30 notice issued by the party's powerful political and legal matter committees in Xinjiang, Radio Free Asia reported.
"Anyone not handing in their passport on time will have their passports canceled, under the relevant public security regulations," said the notice, which was issued to Ghulja city's Uchderwaza police station and signed by the politics and legal affairs committee of Ili prefecture and the municipal political and legal affairs office of Ili, Ili also called Gulja and also new Chinese name Yining.

A local police officer, who gave only a single name, Kahar, confirmed the notice was genuine.
"We issued this notice recently on orders from higher up," he said, adding: "Our sole intention in collecting passports stems from the need to maintain social stability."
"If a passport holder doesn't hand in his or her passport within the two-week period, his or her passport will be sent to the border control agency," Kahar said.
An official who answered the phone at the Ili prefectural police department also confirmed that no new passports are being issued.
"We have to wait for orders from higher up," he said. "A lot of people are asking about this."
He confirmed that passports are also being taken from local residents by police across the prefecture.
"Passports for tourism purposes are being controlled centrally by the prefectural government," the official said.
Asked if Han Chinese residents would also have to comply, or whether the rules would target the Uyghur ethnic group, the official hung up the phone.
China has vowed to crack down on the "three evils" of terrorism, separatism, and religious extremism in Xinjiang, which it targets to the mostly Muslim minority Uyghur ethnic group.
But experts outside China say Beijing has exaggerated the threat from Uyghur "separatists" and that domestic policies are responsible for an upsurge in violence that has left hundreds dead since 2012.
In 1997 a series of protests were sparked by the news of the execution of 30 Uyghur independence activists Ili region as well as the crackdown on attempts to revive elements of traditional Uyghur culture, including traditional gatherings known as meshrep. On 5 February 1997, after two days of protests during which the protesters had marched shouting "Allah Akbar" meaning God is great and "independence for Xinjiang", the demonstrations were crushed by the People's Liberation Army using gunfire and tear gas. According dissident reports estimated the number killed at more than 167.
Around 1,600 Muslims were arrested on charges of intending to "split the motherland", conducting criminal activity, fundamental religious activity, and counter-revolutionary activities following the crackdown.
According a report by Amnesty International documented as many as 190 executions carried out in the years immediately following the incident in Xinjiang, overwhelmingly against Uyghurs. Rebiya Kadeer, who witnessed the Ghulja massacre, went on to become leader of the World Uyghur Congress.
. Tags: #