Palestinian Muslims pray at Al-Aqsa Mosque to mark Eid al-Adha
2015-09-24 09:43:45 | Al Muslim News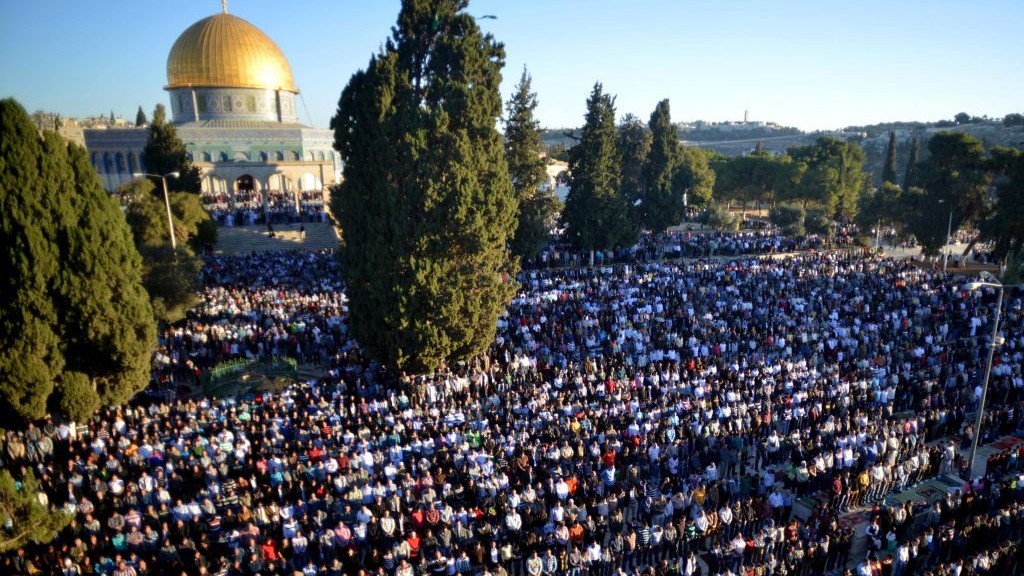 Just last week, mosque complex was scene of violent clashes between Palestinian worshipers and Israeli settlers, security forces
The courtyards surrounding East Jerusalem's Al-Aqsa Mosque on Thursday – the first day of the four-day Eid al-Adha – were packed with Muslim worshipers performing Eid prayers.
Thousands of Muslims gathered in and around the Al-Aqsa only one week after entry into the iconic mosque complex was restricted by the Israeli authorities amid violent clashes between Palestinian Muslim worshipers and Jewish settlers backed by Israeli security forces, Anadolu Agency reported.
Al-Aqsa Mosque, the world's third holiest site for Muslims after Mecca and Medina.
For the four-day Eid al-Adha feast, however, the Israeli authorities have eased restrictions on entry into Jerusalem for those coming from the occupied West Bank, allowing married Palestinian men over 45 and women over 30 to visit the mosque.
Many of those who came to Jerusalem to mark the first day of the Eid on Thursday were East African Muslims who work in the Israeli city of Tel Aviv.
Following Thursday's Eid prayers, some protesters gathered in the courtyards where they chanted "Free Al-Aqsa!"
Some of the protesters waved the flags of the countries from which they came, including Turkey, Algeria, Iraq, and other Muslim countries.
During the Eid al-Adha, Muslims traditionally perform a ritual sacrifice, usually a sheep, goat or cow. Due to frequent Israeli restrictions in Jerusalem, however, residents must often travel to the West Bank for the slaughter.
. Tags: #
Palestine
#