Palestine: Aqsa Child festival as colourfully as butterfly
2015-04-13 23:48:45 | Al Muslim News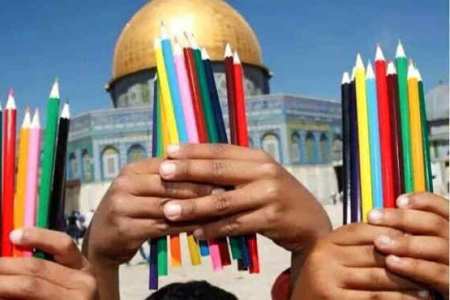 Palestinian children, parents, teachers and fine artists aboard 220 buses arrived from different Palestinian areas participated in the activities of the 13th Aqsa Child festival that started Saturday morning in the courtyards of the Al-Aqsa Mosque, World Bulletin reported.
The festival started with a drawing contest, where children embarked on drawing the landmarks of the Aqsa Mosque compound.
Sheikh Ikrima Sabri, head of the Supreme Islamic Council in Jerusalem said, 'they have to keep their future generations attached to the Aqsa Mosque'.
According to Palestinian artist Yousuf al-Rajbi, who participated in the festival, pointed out that the Israeli forces prevented the entry of many drawing tools to the –Al-Aqsa Mosque.
The drawing festival is intended to strengthen the Palestinian children's bond with the Aqsa Mosque and to send a strong message to the illegal Israeli occupation that its measures and violations will never succeed in detaching the Arab Muslims from their Al-Aqsa Mosque.
. Tags: #
Middle-East
#
Arab-World
#
Palestine
#