Pakistan: Ulema Conference Declare Suicide attacks against Islam
2015-05-18 07:43:47 | Al Muslim News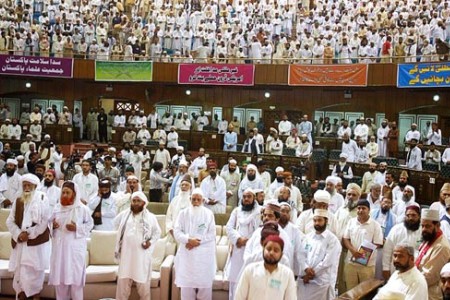 On Sunday, May 17, a conference of religious scholars in Lahore termed jihadi groups, including the self-proclaimed Islamic State (IS), Tehreek-i-Taliban Pakistan (TTP) and Boko Haram, and their ideologies, flawed and built around ignorance.
More than 200 religious scholars have issued a decree against suicide attacks and deemed them 'unlawful' under the Islamic law, according to local media sources.
Mufti Muhammad Siddique Hazarvi, Dr. Mullana Raghib Naeemi, Allama Khalil-ur-Rehman Qadri, Mufti Muhammad Haseeb Qadri, Justice (retd) Mian Nazir Akhtar, Mufti Muhammad Khan Qadri and others prominent Islamic scholars attended the conference.
The degree (fatwa) issued at a conference of Islamic scholars on Sunday said the philosophy behind the so-called Islamic State (IS), banned Tehreek-i-Taliban Pakistan, Al Qaeda, Boko Haram & other terrorist outfits was misleading and their ideologies, flawed and built around ignorance.
Such groups operated in an un-Islamic manner and their thinking was flawed because it was based on poor knowledge and ignorance, said the decree released to the media by Maulana Ziaul Haq Naqshbandi.
Further stated that these groups did not meet the requirements necessary before declaration jihad, and the elements involved in sectarian killings were guilty of 'fasad', as Islam did not allow killings in the name of sect.
"The Islamic government is bound to crush such rebels," said the decree.
According to the decree, people who attack places of worship and target non-muslims are the worst kind of sinners.
Similarly, the ulemas also criticised groups and people involved in the killing of health workers and working against the polio immunisation campaign in the northern areas of Pakistan.
Islamic Scholars in conference had decided to observe Friday (May 22) as a day for peace and love. On the day, sermons would be delivered in about 400,000 mosques against unlawful killings, Maulana Ziaul Haq Naqshbandi said.
Other initiatives like a movement against terrorism - A movement called "Eradicate Terrorism and Save Country" would also be launched, said the Maulana.
Religious leaders of other countries would be approached to get endorsements for the decree, he added.
Another important point raised in the conference was related to the need for international legislation against blasphemy, which is a sensitive issue, particularly in Pakistan.
Militants from the ISIS have been widely condemned by Muslims worldwide who staged several protests to express anger against the terrorist group.
. Tags: #