Pakistan: Salman Butt, Muhammad Asif can return to international cricket from September
2015-08-19 15:13:59 | Asia Editor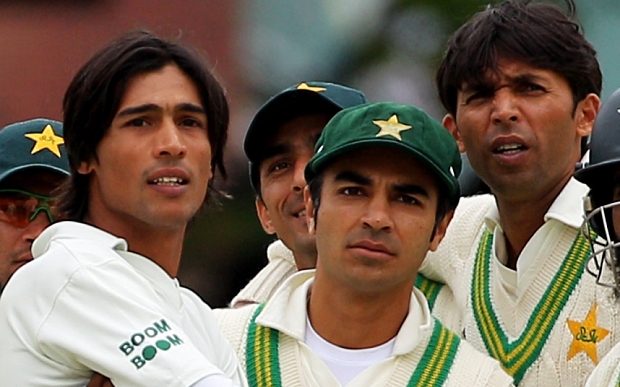 salman ,asif and amir playing from next month:ICC
The International Cricket Council (ICC) on Wednesday confirmed that Mohammad Asif and Salman Butt would be eligible to play international cricket when their bans expire in September this year.
In a press release issued by cricket's governing body, it was stated that after fulfilling specific conditions laid down by an anti-corruption tribunal, the duo of Asif and Butt could return to domestic and international level cricket after the sanctions against to two players expire on September 1.
Mohammad Amir, the third player involved in the 2010 spot-fixing scandal, was granted permission to play domestic cricket in Pakistan earlier this year and will now be eligible to make a return to the international level as well.
Former captain Butt, Asif and Amir served jail sentences in the United Kingdom and were given minimum five year bans by the anti-corruption tribunal of the ICC with their sanctions backdated to commence on September 2, 2010 (the date on which they were initially charged and provisionally suspended).
The ICC statement said the trio would remain under the glare of its anti-corruption unit.
"As with all players and other participants in cricket, all three players remain bound to comply with the ICC Anti-Corruption Code and the anti-corruption rules of all National Cricket Federations," the statement read.
"Consequently, if they should commit any further act of corrupt conduct they are liable to (i) further separate disciplinary proceedings for breaches of the relevant Code or rules and (ii) in the case of Asif and Butt and where such breach occurs during the suspended part of their original period of ineligibility, the activation of that suspended period of ineligibility."
According to a Pakistan Cricket Board (PCB) official, who spoken on the condition of anonymity, the board would be keeping an eye on the performances of Amir in the forthcoming National Twenty20 Cup and he remains the player most likely to make a comeback to the Pakistan side.
The fate of Butt and Asif remains unclear at the moment and if PCB chairman Shahryar Butt's recent statement are anything to go by, the two players have a long road ahead of them before they can think of a comeback.
. Tags: #