Pakistan: Punjab home minister Shuja Khanzada killed in terror attack
2015-08-17 03:53:14 | Asian Editor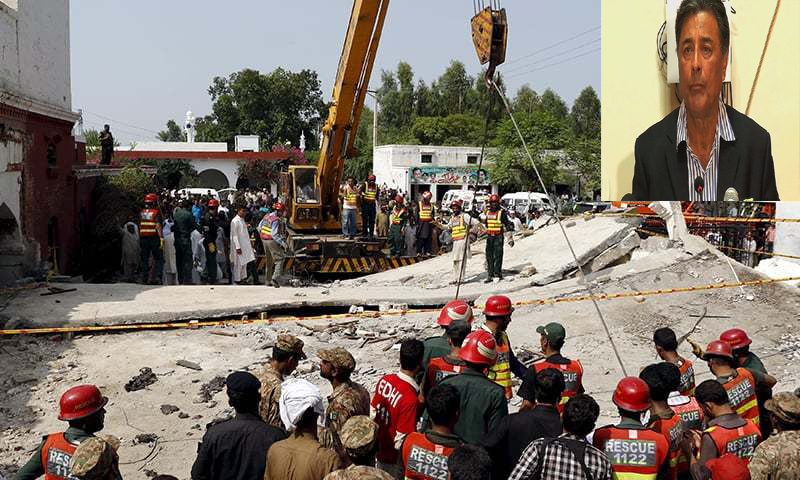 Blast site, in small picture Punjab Home Minister
Punjab home minister Colonel (retd) Shuja Khanzada was killed in a suicide attack on his political office in Shadi Khan village, Attock, Sunday, along with 16 others.
Punjab Police Inspector General Mushtaq Sukhera inspected the blast site later in the day and confirmed that 14 people, including the Punjab home minister, died in the suicide blast.
At least 23 people were injured in the attack and are currently under treatment at different hospitals in Rawalpindi and Islamabad, said the Punjab police chief and prayed for the early recovery of the injured victims.
Three injured in critical condition later passed away at DHQ Hospital Rawalpindi, hospital sources confirmed, raising the death toll from the attack to 17. The driver of home minister Khanzada, Ghareeb Nawaz, was also among the dead.
"There were two suicide bombers, one stood outside the boundary wall and the second one went inside and stood in front of the minister," Sukhera told reporters.
"The blast by the bomber standing outside ripped the wall which caused the roof to fall flat on the minister and people gathered there," he said.
Sukhera added police were investigating whether the attacker inside the building detonated a bomb.
He said police could not rule out the involvement of banned sectarian militant outfits against whom the government had launched a crackdown.
The impact of the explosion caused the roof of the building to collapse, and shattered windows in nearby houses.
Between 50-100 people were estimated to have been in attendance at a jirga being held at Khanzada's political office. Many of them were buried underneath the wreckage as the entire structure had been razed to the ground by the explosion.
Deputy Superintendent of Police Hazro Syed Shoukat Shah was among the dead recovered from the site. Ten other policemen were present at the scene when the blast occurred.
. Tags: #
Pakistan
#